The Chikuma River, Japan's longest, flows through open fields surrounded by magnificent mountains. Centred on Iiyama Station on the Hokuriku Shinkansen, Shin'etsu-Shizenkyo is a popular cycling area, attracting riders from all over the country.
At the Shin'etsu-Shizenkyo activity centre, you can rent a variety of different types of bicycles and buy a range of cycling goods. We recommend taking a bicycle tour of local tourist spots or exploring downtown.
It's possible to abandon your rental bikes, so you can enjoy a carefree long cycling trip without worrying about how you'll get back; if you want to make a one-way trip, just leave your bicycle at one of our return facilities and go home on public transport.
What to bring on bike ride
What you'll want to bring with you will of course vary depending on the route, what you want to do, and the season, but we'd appreciate it if you try and keep luggage compact and to a minimum. A standard set of equipment you might want to bring is described below.
You can buy or rent a wide variety of cycling goods from the Shin'etsu-Shizenkyo activity centre, and we can also look after your hand luggage for you.
Bag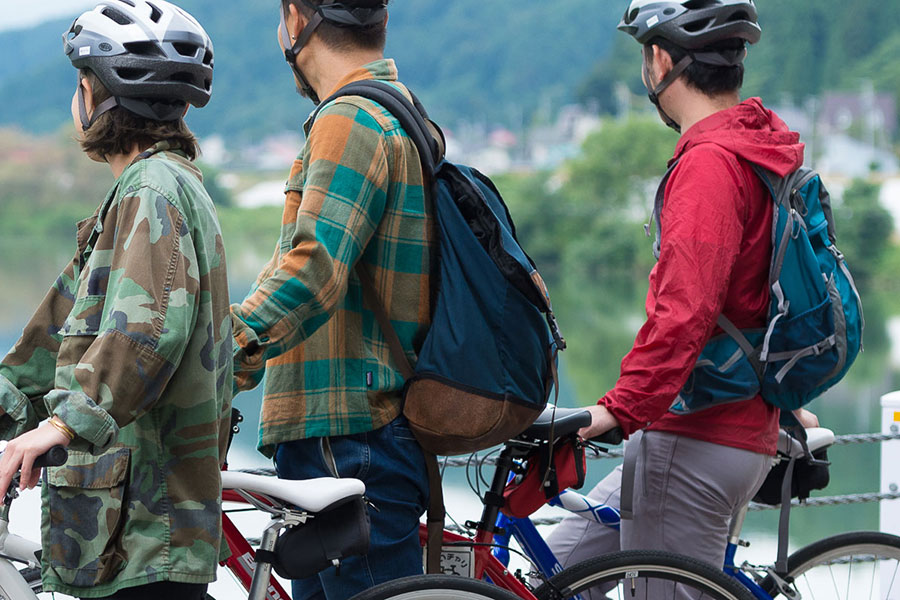 It is convenient to have a bag to carry your belongings. Backpacks and messenger bags are recommended, so that both hands are free to bike safely.
Drink (bottle)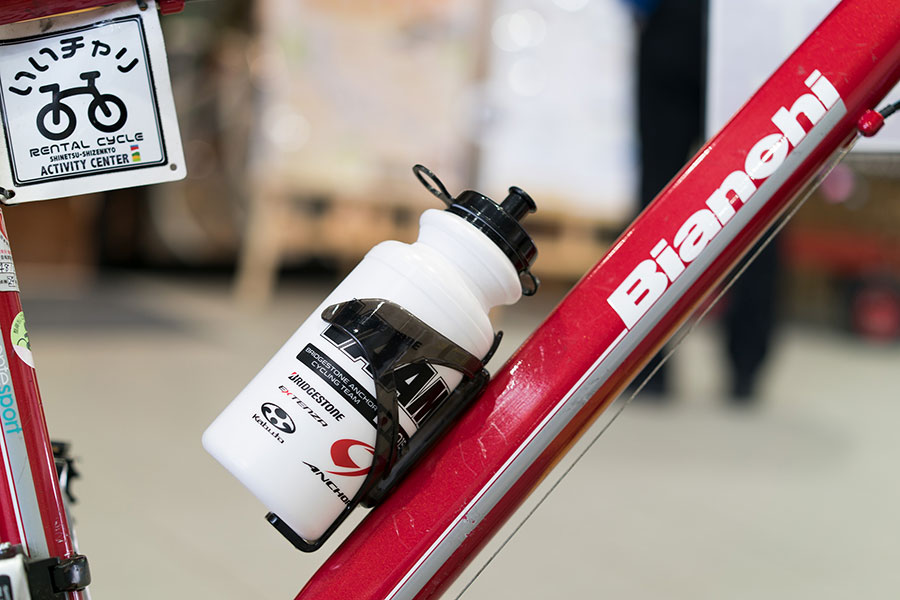 Sometimes we don't realize how much unexpected physical strength we use when we are biking. Frequent hydration is indispensable. It is also fun to look for spring water!
Rain gear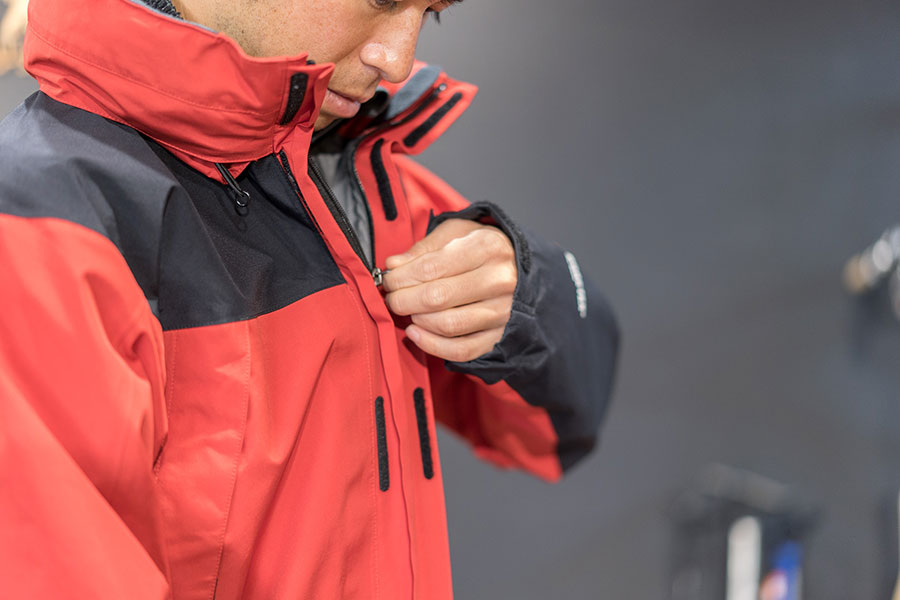 Keep yourself warm in the sudden rain and cold weather while wearing rain gear to keep the rain out.
Sunglasses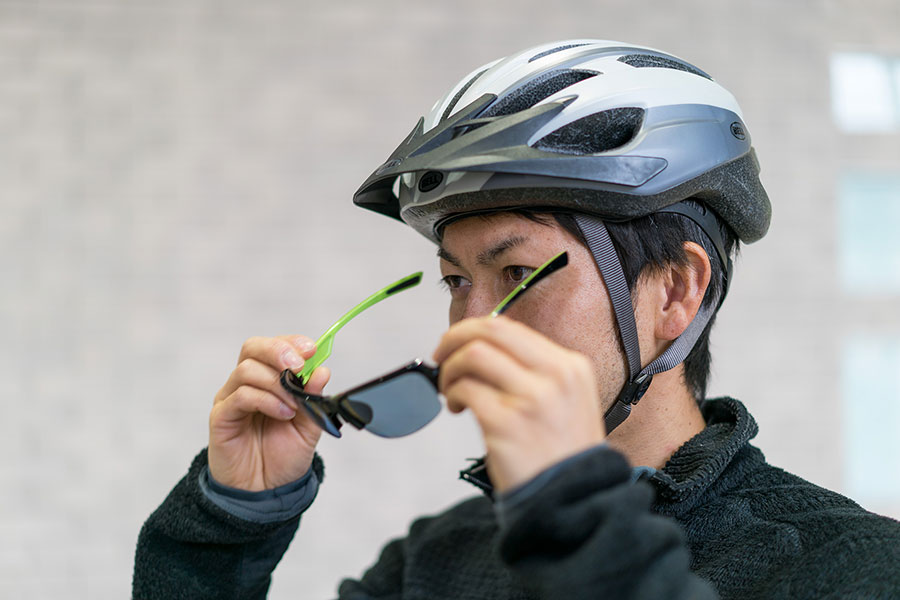 Wear sunglasses to protect your eyes from ultraviolet rays. They should fit well and comfortably so that you won't lose them while cycling.
Wire locks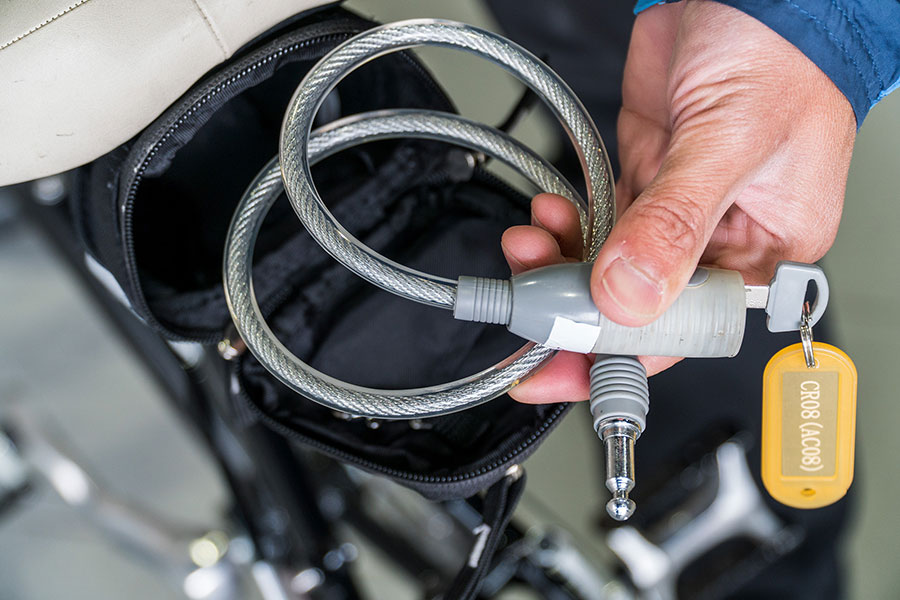 It is also nice to take a brief stop for sightseeing and delicious dishes etc. Please do not forget to lock your bicycle when you are away from it. Bicycle locks are attached to our rental bicycles.
Helmet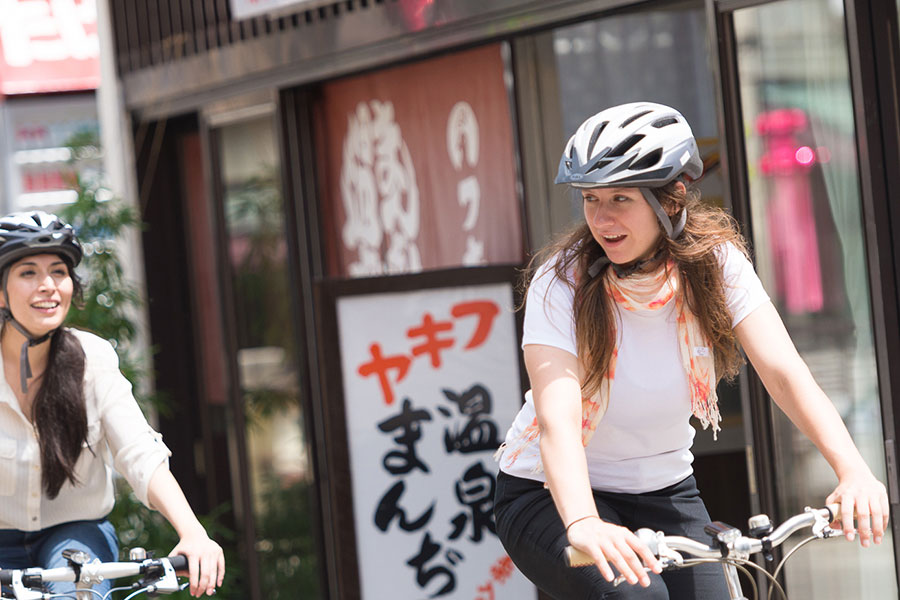 Be sure to wear a helmet and keep yourself safe.
Bike carry bag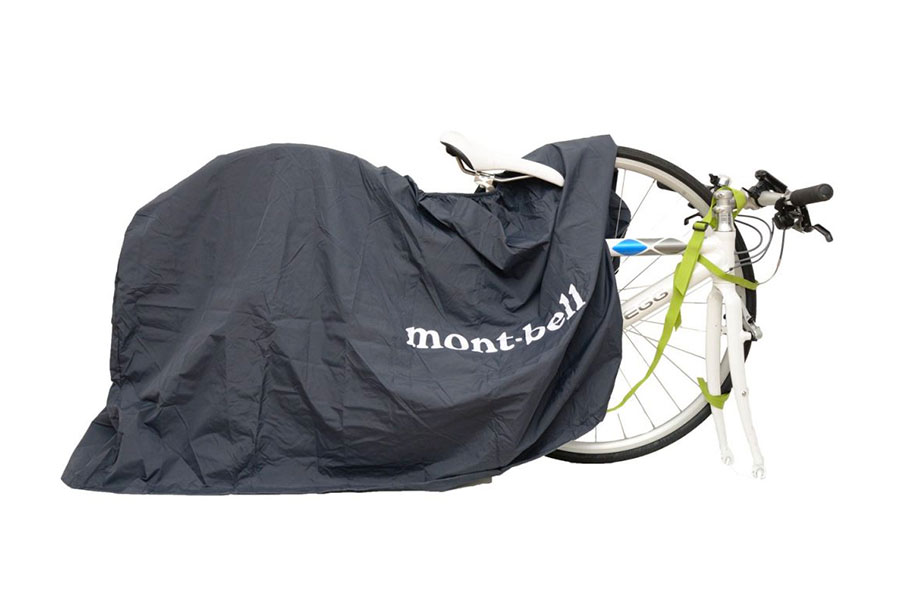 They are designed to carry your bicycle in public transportation systems. It would be nice to get in onsen to refresh after cycling then take a train back home.
ID / Insurance card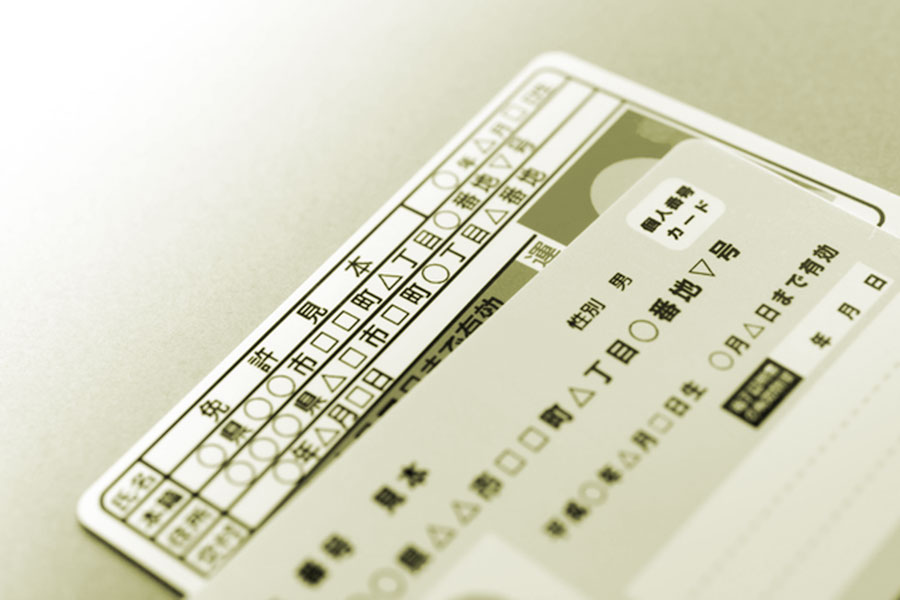 Carry insurance cards or IDs in case of injury or sudden illness. They are also required when you rent bicycles at rental stations.
What to wear on bike ride
This will vary depending on your route and goals, but it's best to wear clothes that are easy to move around in. We recommend trousers with a tight hem that allow you to freely use your feet, and also that you bring a windbreaker or something similar to avoid sunburn or in case of storms. If you're planning a city cycling trip, your normal clothes will be fine.
Cycling stations
Shin'etsu-Shizenkyo is dotted with over 50 "cycling stations". "Cycling stations" are rest spots where you can relax and take a breather in the middle of your tour. They support your cycling by offering use of pumps and tools, and have lavatories and water available.
Drop off Station
You can leave your bicycle in whichever of our return facilities you like. Please use them freely for one-way cycle trips, tours around the area, and so on. You can then return in comfort by train or bus.
Rent-A Bicycle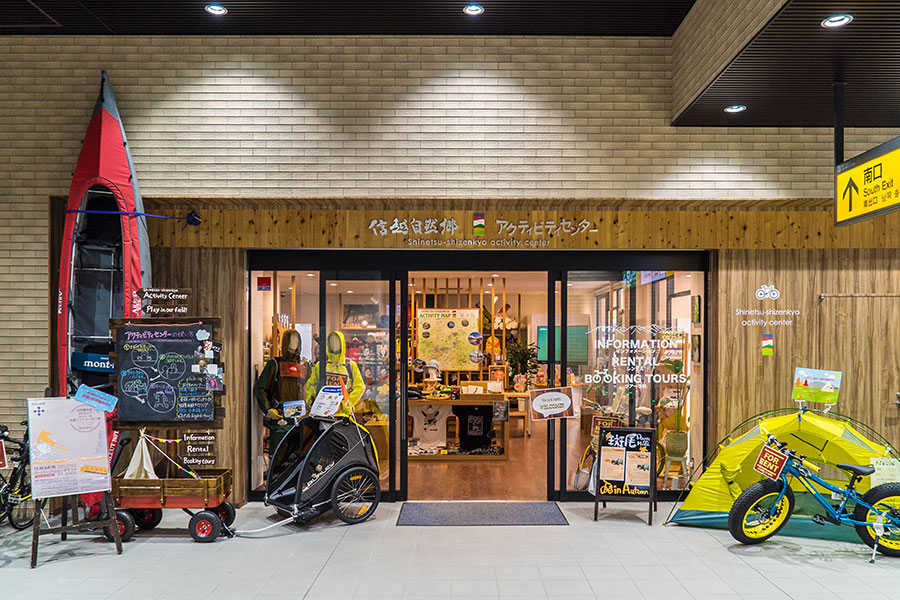 Shinetsu-Shizenkyo Activity Center
This is the starting point of your trip! You can go with your favorite bicycles. There are nine kinds of bicycle; city cruiser, electric city cruiser, electric cross bike, electric mountain bike, cross bike, road bike, mountain bike, fat bike and tandem bike.
The center provides the information, booking tours and activities to enjoy the four seasons of Shin'etsu Shizenkyo area. You can rent out gear to enjoy nature including bicycles, trekking shoes, rain wear, tents, sleeping bags, snowshoes and more.
Open

8:30-18:00

Closed

None

Phone

0269-62-7001
Rent-A Bicycle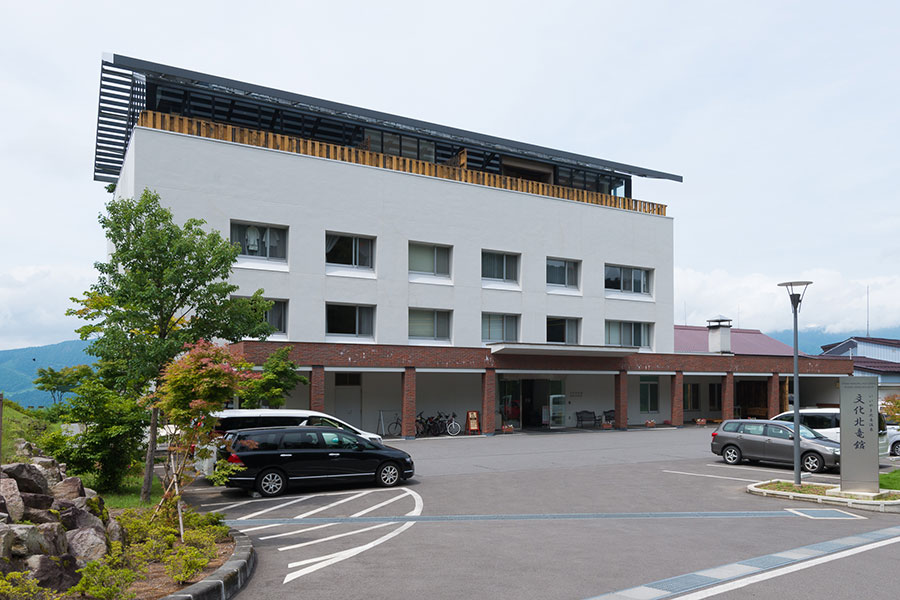 Iiyama Hokuryu Onsen Bunka Hokuryu Kan
This route is recommended for advanced cyclers since maximum angle of inclination is 20degrees when you bike via Kosuge shrine. It feels great to accomplish especially after seeing the amazing view from there.
Bathing and lodging are available at Bunka Hokuryu Kan. From the open-air spa, you can see Hokushin Gotake, Lake Hokuryu. The heart-shaped lake is known as a power spot of love fulfillment, and it is also wonderful to explore the lake surrounded by forests
Open

9:00-17:00

Closed

Closed accasionally for maintenance

Phone

0269-65-3121
Rent-A Bicycle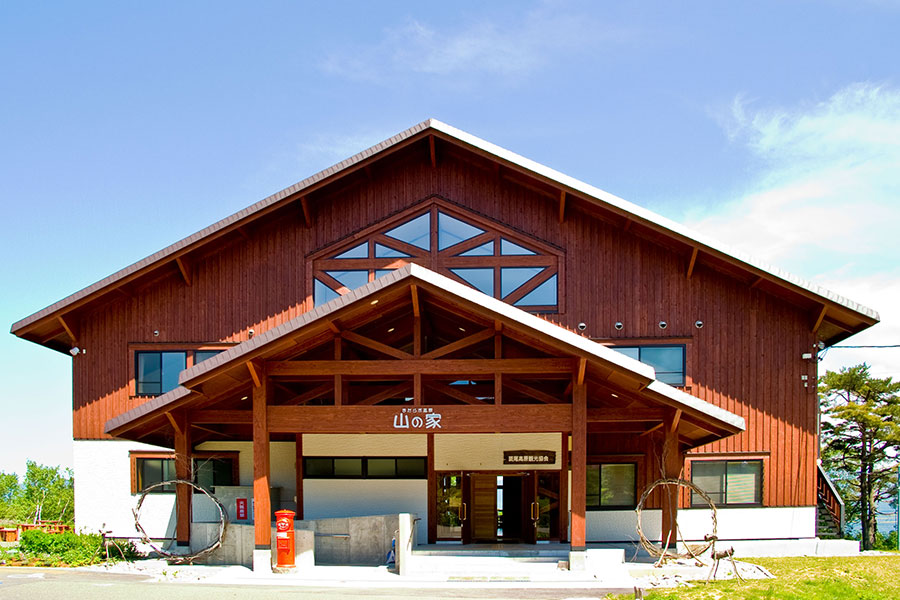 Madaraokogen Yamanoie
We commend to go to Madaraokogen at an altitude of 1,000 meters by bus. It is very refleshing to go down the forest road by mountain biking on the way back!
A visitor center located at the entrance of Madarao. In order to fully enjoy Madarao Kogen, we recommend collecting detailed information here first. Guests can also enjoy activities such as indoor climbing and soba experience (reservation required).
Open

9:00-17:00

Closed

Wednesday
(Except busy season)

Phone

0269-64-3222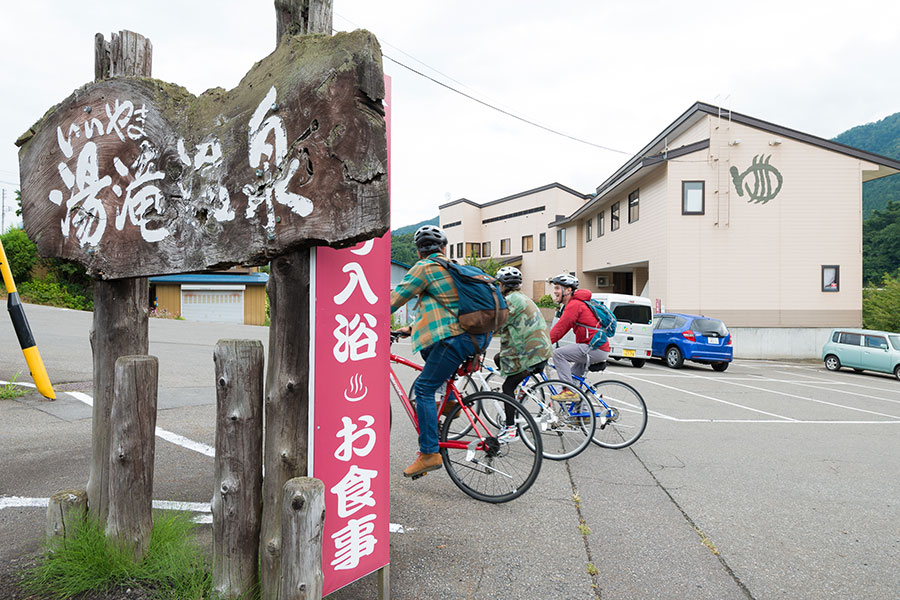 Iiyama Yutaki Onsen
The route is mostly flat and recommended for cycling beginners.
Spring spa beside Chikuma river is wonderful! You can get back from Kamizakae station to Iiyama station by local train
One of the four hot springs that springs up in Iiyama city. From the open-air spa, you can enjoy the beautiful natural beauty of the seasons with the view of Chikuma river and the mountains.
Open

10:00-21:00

Closed

Tuesday
(Except national holidays)

Phone

0269-65-3454
Rent-A Bicycle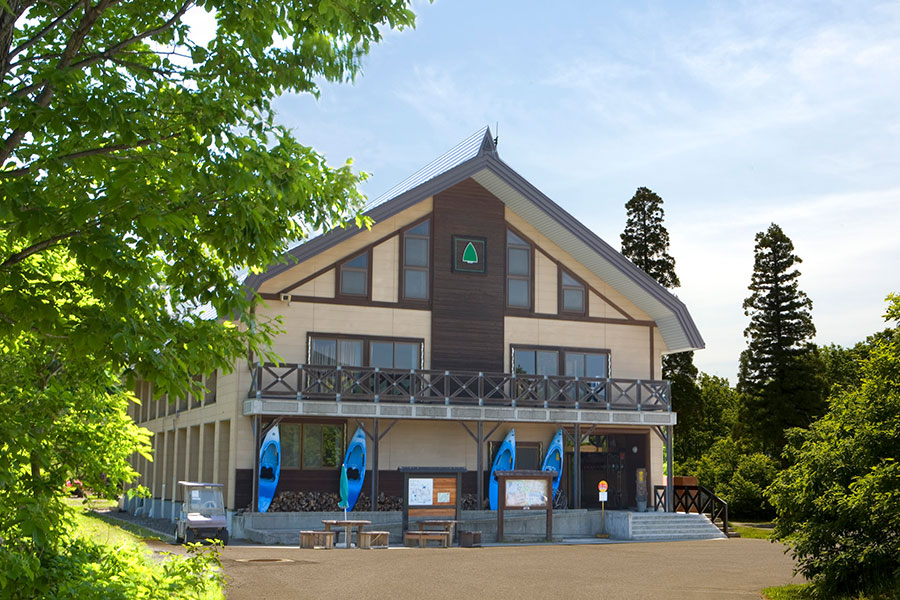 Nabekurakogen Mori-No-Ie
Go through the vast rural area, you will reach Nabekurakogen with altitude difference of 200 m.
A spectacular view from the bridge, the landscape of Satoyama is worth a visit.
It is a base facility for green tourism located in the northernmost part of the Iiyama city. Accommodation is also possible as there are ten cottages fully equipped. There is a promenade of universal design called "beech's satoyama Komichi" in the premises. There will be no difficulties with wheelchair or stroller and all you can feel the nature
Open

9:00-18:00

Closed

Tuesday
(Except busy season/May have temporary closure)

Phone

0269-69-2888
Rent-A Bicycle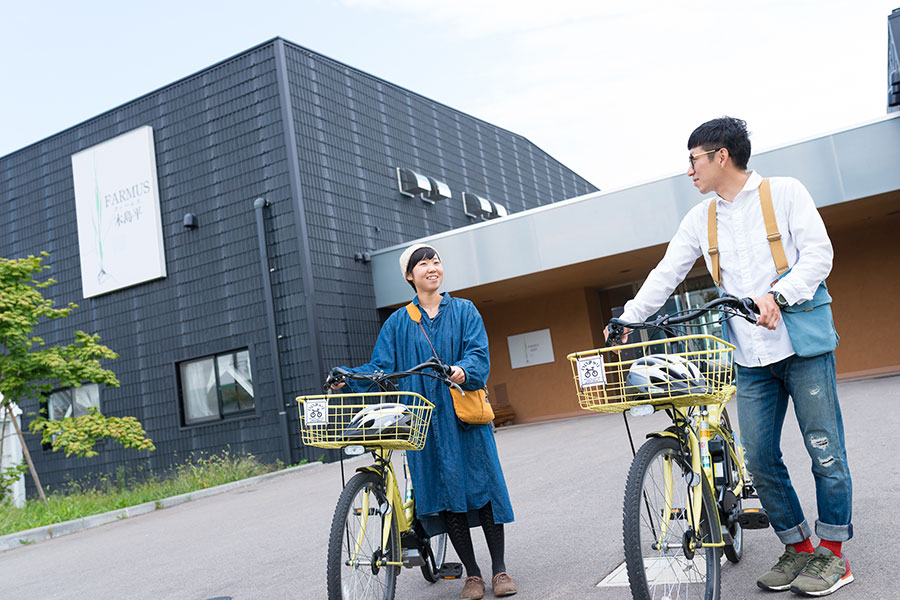 Roadside Station Farmus Kijimadaira
It's easy cycling with a relaxing view of the rural landscape.
Let's go for a homemade gelato!
You can have homemade soba with 100% local buckwheet flour and handmade gelato at the restaurant and cafe in the hall. Local agricultural products are for sale in the market.
Open

10:00-17:00

Closed

Monday
(Except national holidays)

Phone

0269-62-2201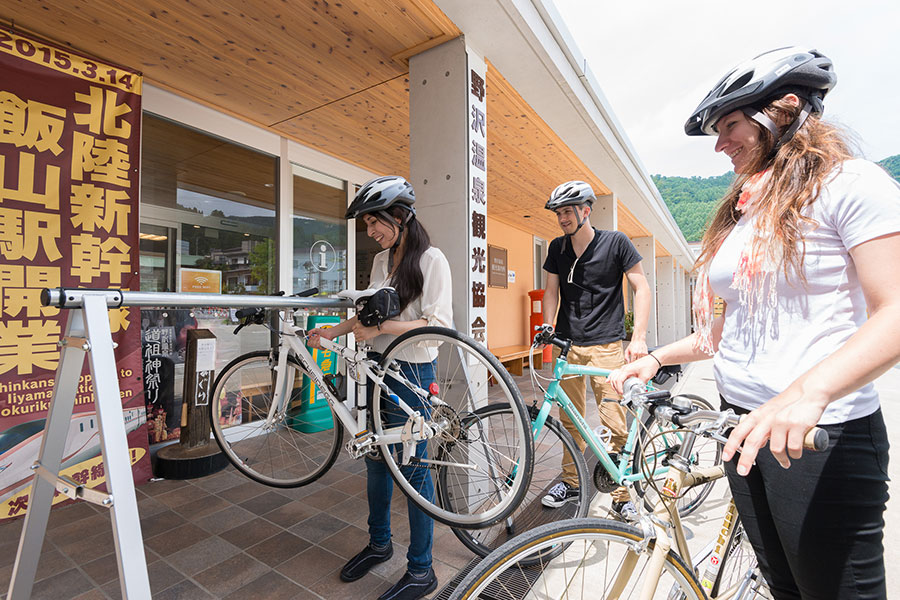 Nozawaonsen Tourist Information Center
The last climb is a bit tiring but the hot spring is the best for a tired body!
We recommend to walk around the hot spring town and take "Sotoyu".
At the tourist information center located in the middle of Nozawaonsen, you can get detailed information about the village. You will find your favorite "Sotoyu" from 13 different ones
Open

8:30-17:00

Closed

None

Phone

0269-85-3155
Rent-A Bicycle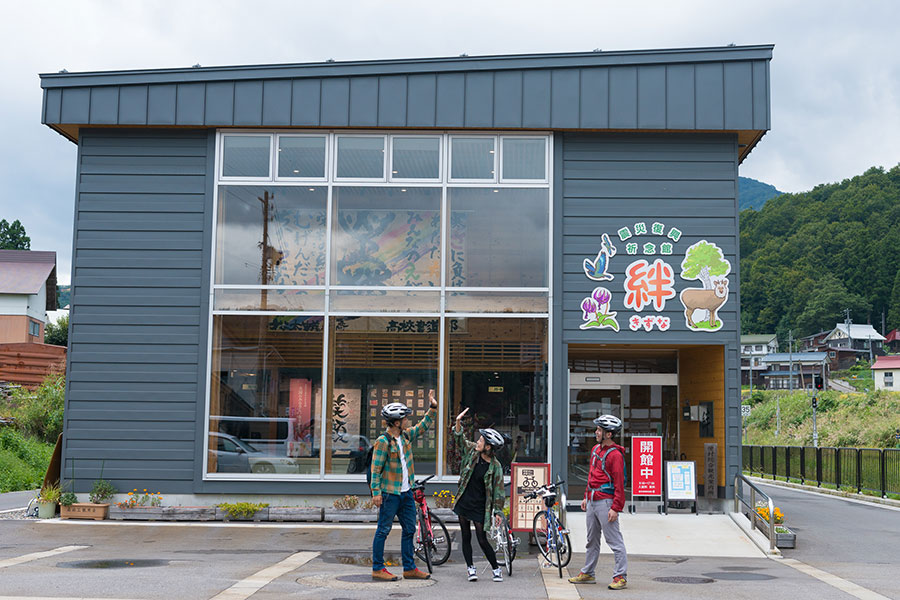 Sakae Earthquake Disaster Reconstruction Memorial Hall Kizuna
It is a long cycling going along with the relaxing flowing Chikuma river
Returning on a local line, feeling relaxed!
The day after the Great East Japan Earthquake, an another one with magnitude 6.7 and seismic intensity 6 strong hit Sakae village on March 12, 2011. In the memorial hall, records of village restoration and reconstruction are exhibited. Also, it is a complex facility with tourist information center and a child support room,
Open

9:00-17:00

Closed

Monday
(Except national holidays)

Phone

0269-87-2200
Rent-A Bicycle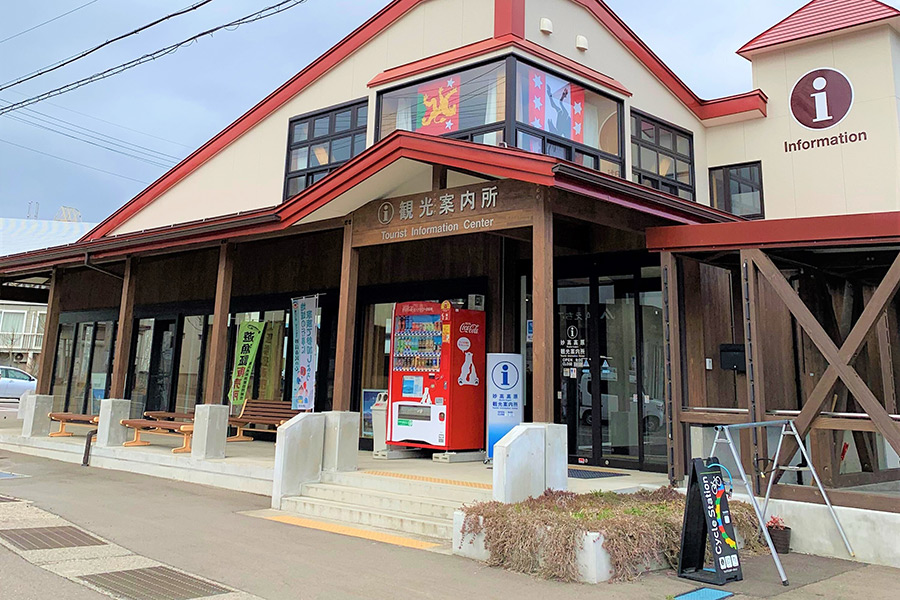 Myoko Kogen Tourist Information Center
Rode bike retal is available. Bike through a specutaclar view of Mt. Myoko a.k.a. "Echigofuji".
Myoko Kogen is located in Nigata Prefecture just across the border from Nagano Prefecture. The Information Center is in Myoko Kogen station where is closest part of the greater Myoko City region to Tokyo/Nagano and is easily accessed from major airport.
Open

9:00-17:00

Closed

None

Phone

0255-86-3911
Rent-A Bicycle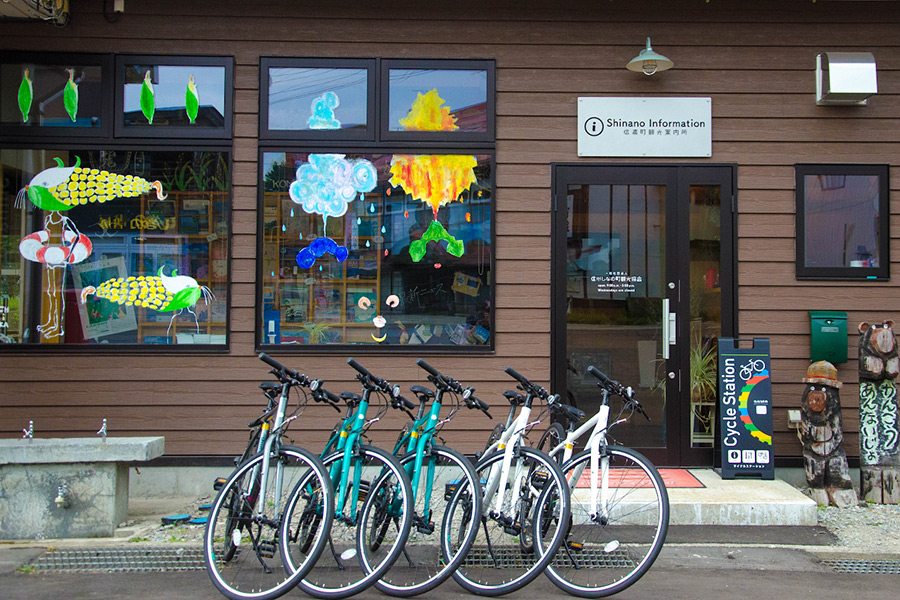 Shinano town Tourist Information Center
Shinano town is widely known as a leader in forest therapy. Explore the healing forest and get away from today's stress-filled society.
It is located at the foot of beautiful Mt. Kurohime and has been a hub of tourism. Experience water activities at Lake Nojiri where there are many accommodations and great restaurants.
Open

9:00-17:00

Closed

Wednesday

Phone

026-255-3226
Rent-A Bicycle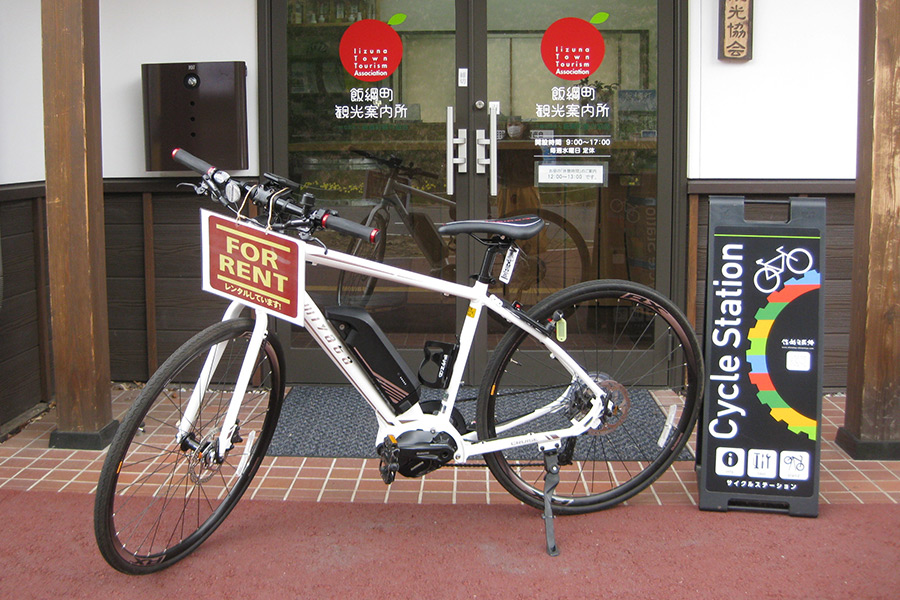 Iizuna town Tourist Information Center
It's a pretty sweet experience to pedal through apple fields that spread through out this area.
It's located in the middle of apple orchids. Iizuna town is one of the leading apple production areas in Japan. Well known locayl made apple cider and great food. Iizuna town is full of richness in any season.
Open

9:00-12:00 / 13:00-17:00

Closed

Wednesday

Phone

026-253-7788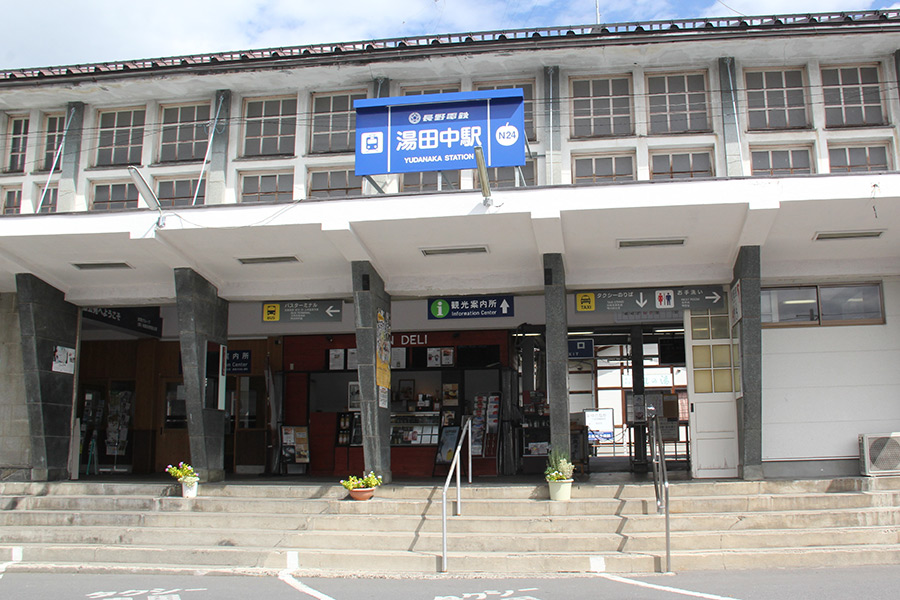 Yudanaka Station Guide Center
Explore a picturesque national park and countryside. The town retains its traditional Japanese atmosphere.
It's been a gateaway to 3 prominent resort areas of Shiga Kogen, Yudanaka & Shibu Onsen Resort and Kita-Shiga Kogen. The guide center is located in Yudanaka station and provides free maps and brochures to help you bike around town. Take a free foot bath near the station and chat with locals.
Please make a reservation by the day before. (Let us know you would like to leave the bike at Yudanaka station when you book.)
Open

9:00~12:00 / 14:00~17:00

Closed

None

Phone

0269-33-1126
Let's keep rules and manner - Five Rules for Safe Bicycle Ride
Ride bicycles on the roadways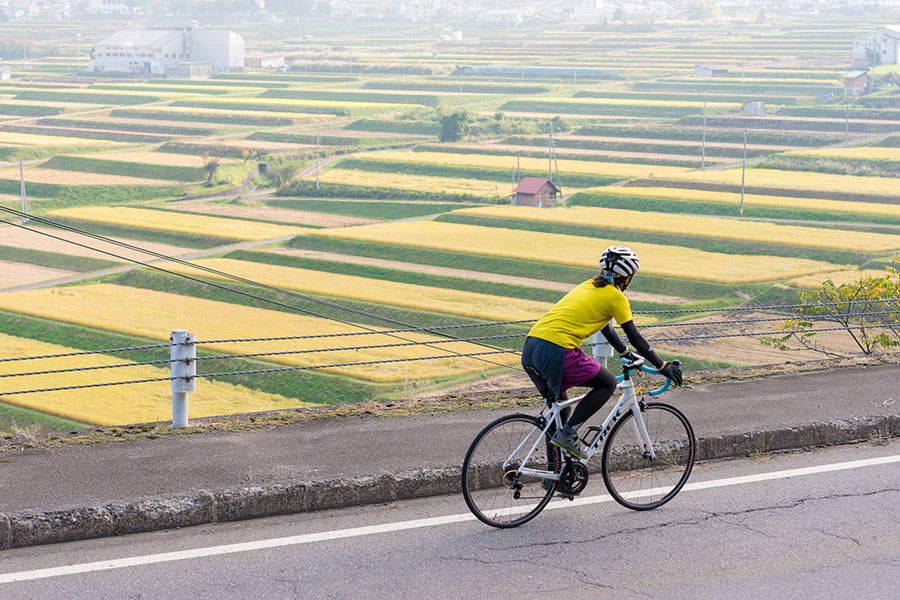 Under the Road Traffic Law, bicycles are light vehicles. Where there is a distinction between a sidewalk and a roadway, roadway is used.
Keep left on the roadways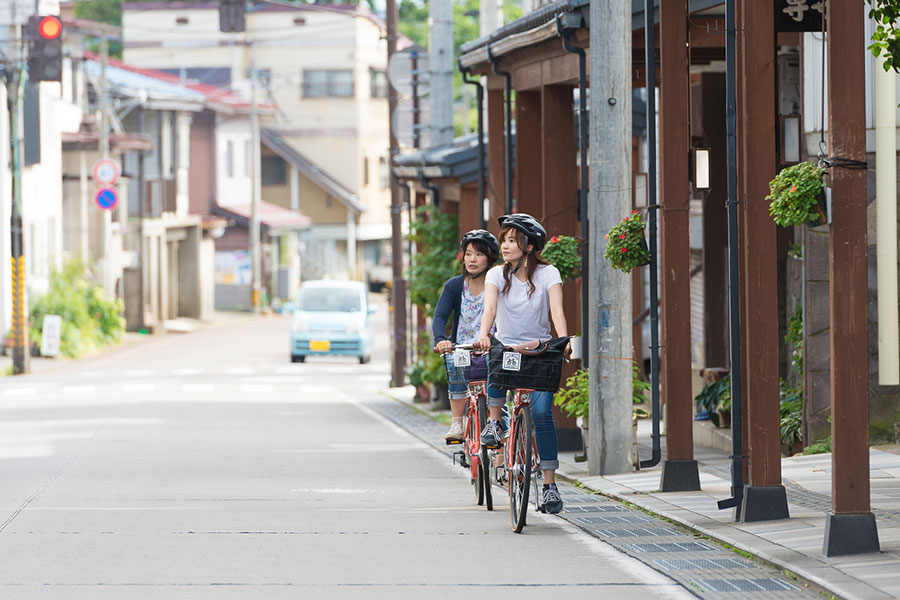 The bicycle must pass by the left end of the road.
The pedestrian takes priority on pedestrians and slowly stops on the side of the road
The bicycle should go slowly. The riders should stop when their riding may block a pedestrian.
Observe safety rules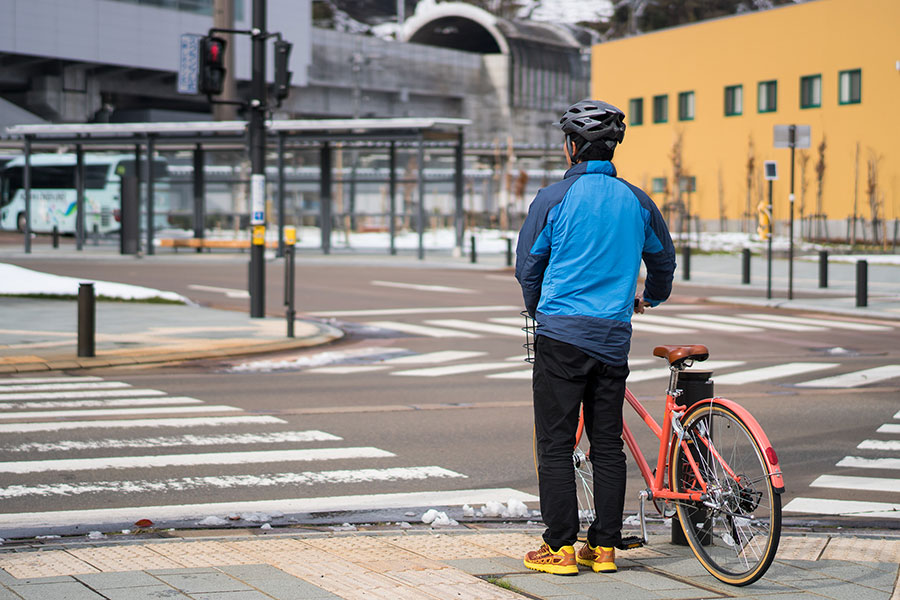 Drunken riding, riding double and riding side by side are prohibited.
Have lights on during evening hours.
Obey the traffic lights, and stop to check the safety at an intersection.
Wear a helmet for safety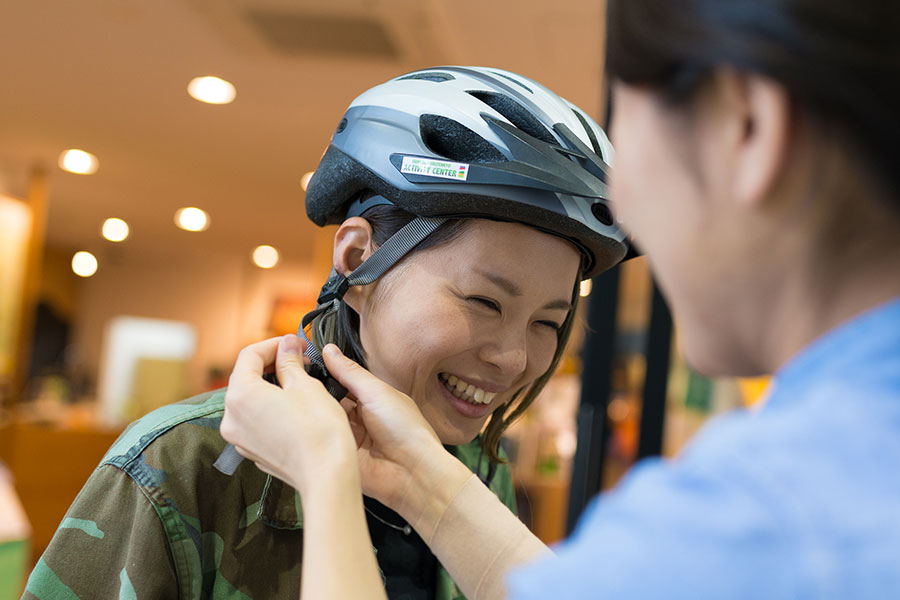 Understand the importance of bicycle helmets and bike safely.
Rental
Bicycles, trekking gear, snow surfboard and our must-have winter gear in Shinetsu Shizenkyo, rainboots are available in store.
Luggage day delivery service
If you arrive in the morning (9am-12am), we can take care of your luggage at the Shin'etsu-Shizenkyo activity centre located at JR Iiyama Station, so you can have fun cycling empty handed!
If you're in either Iiyama, Nozawaonsen or Kijimadaira areas, we can then send your bags to where you're staying by 8pm on the same day, so you can fully enjoy a cycling trip as far as your lodgings or final destination.