"Snow country's little Kyoto": Enjoy a temple town by bicycle
The Iiyama Temple Town Route is an accessible and enjoyable loop of approximately 7.2 km. It is an excellent route for taking a sort of "stroll by bicycle," making casual stops and side trips along the way to check out whatever strikes your fancy among the scenic spots and points of interest near Iiyama Station.
With only one small uphill stretch, the route features chiefly flat and level riding, accessible for any type of bicycle at all. Whether alone or in a group, together with family or as a couple, anyone can have a relaxed and enjoyable ride.
| | |
| --- | --- |
| DISTANCE | 7.2km |
| RECOMMEND TO | Families, groups, couples |
| TIME REQUIRED | 1.5hours |
| START | Iiyama station |
| GOAL | Iiyama station |
The area around Iiyama Station, called by literary master Toson Shimazaki the "snow country's little Kyoto," is home to its own regionally-unique buildings and historic sites, not the least of which are over 20 different temples and shrines, and is also dotted with places such as stylish cafes and popular confectioneries. This route gives riders the chance to have it all, experiencing each of these charms without compromise.
The route begins at Iiyama Station and proceeds to Nio-mon Gate and then to Shojuan. While featuring a stark contrast between the impressive and imposing stances of the jet-black Nio guardian statues and its traditional thatched roof, this priests' hermitage is the perfect first step to get a feel for the history and culture of this temple town of Iiyama. It is also the ideal starting spot for visiting the shrines and temples that dot the city streets, particularly for those with a special interest in seeing the holy sites.
From there, proceed with the giant ramp of the Iiyama Schanze on your left and head toward Gangi-dori, known as the town of Atago's "Buddhist Altar Street." "Gangi" refers to a type of roofing used in snowy regions to shield street-side pedestrians from the snow. The street, with its gangi continuing for approximately 300 meters, is a truly iconic "snow country" scene.
In addition to the numerous Buddhist altar shops standing side by side, the street is full of restaurants and other points of interest, such as the Mayumi Takahashi Museum of Doll Art. From there, the route passes by Iikasayama Shrine and Iiyama Castle Ruins Park before heading back toward Iiyama Station. Along the way, don't forget to drop in any of the cafes and confectioneries that interest you. There are all kinds to be found, from venerable and well-loved local cornerstones to original and stylish merchants that have just opened their doors in recent years.
There is a small uphill leg along the road from Shojuan to Iiyama Castle Ruins Park, but it does not take very much time, even for those who select to walk their bikes along this portion. Feel free to stop and spend time wherever you like for as long as you like along the way.
One of the great things about this route is all the little discoveries that can be made precisely because you are meandering around by bike. From the holes in the center of the city streets (They spout water in the winter due to the melting snow!) to the manhole cover designs and the shapes of the traffic lights and fire hydrants, there are little signs of snow country culture all over, waiting for you to notice them.
Shops and points of interest along route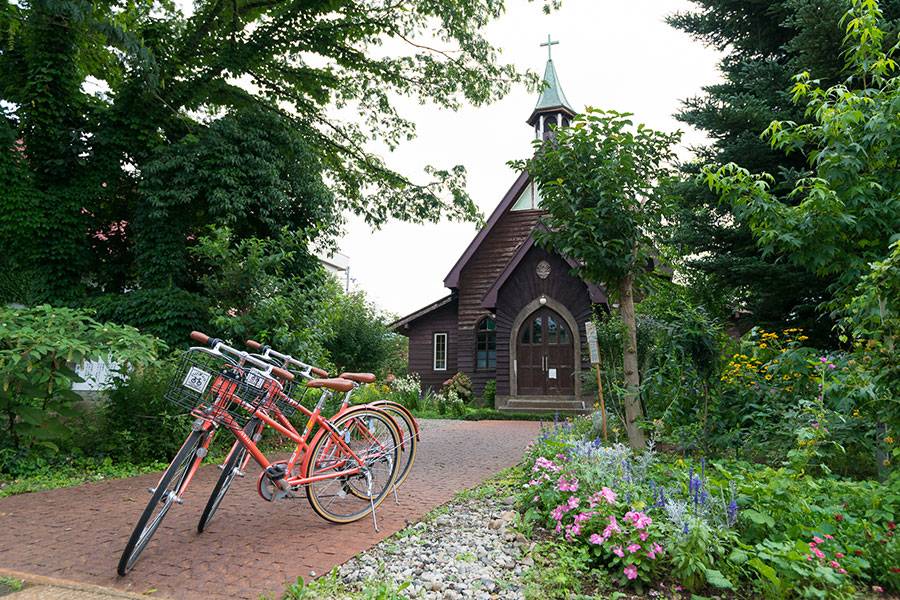 Iiyama Resurrection Church
This is the only church in Iiyama, which is otherwise known as a town of temples and likened to a snow-capped version of Kyoto. This historic church was built in 1932. The tiny building is made with wainscoting that blends in neatly with the temples around town.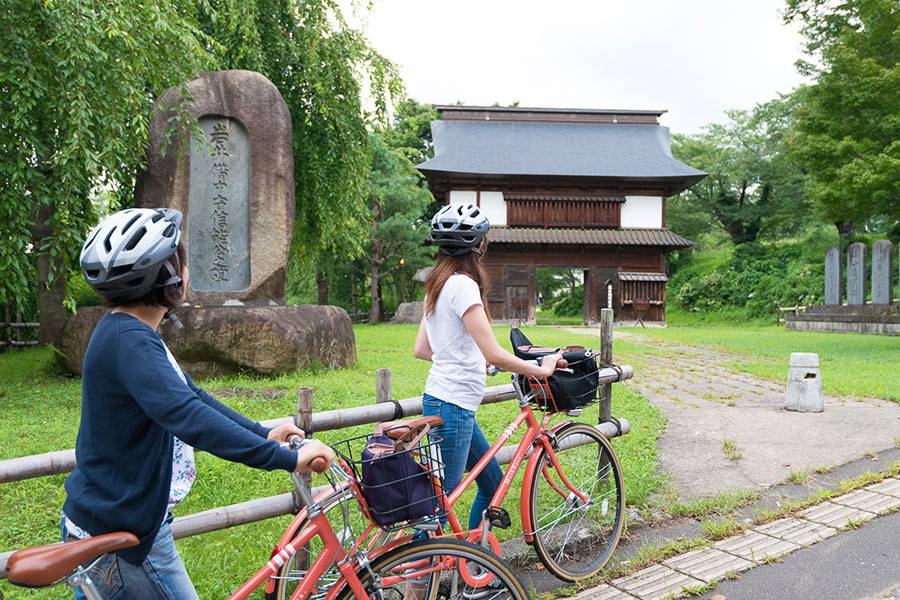 Iiyama Castle Ruins Park
This castle was built by Uesugi Kenshin as a strategic fortification against attacks. The gates, earthen fortification, and stone walls have been restored, letting you feel like you've traveled back in time. The castle features a scaled series of partitions and fortifications that Takeda Shingen was unable to break into during battles that raged 12 years.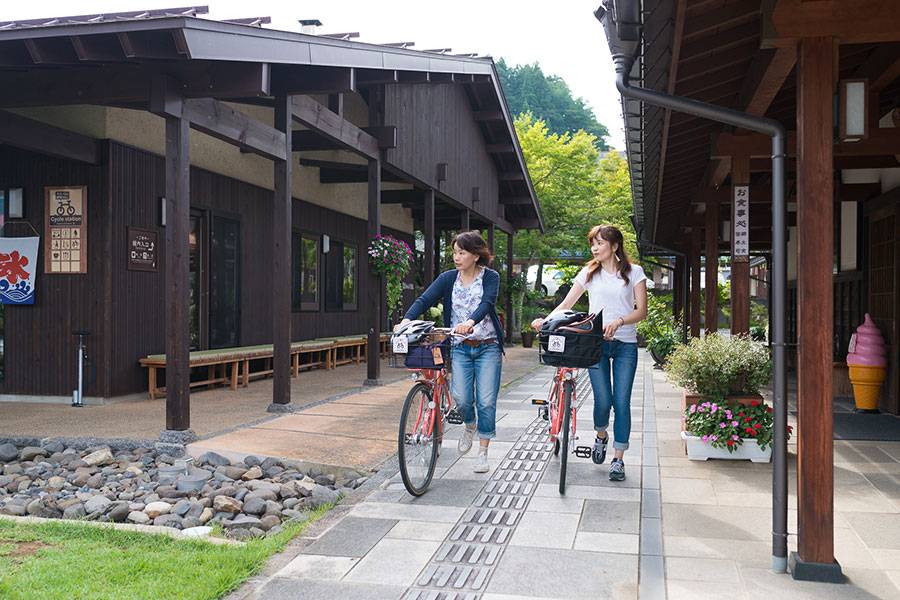 Mayumi Takahashi Museum of Doll Art
Here you will find the various works of art by Mayumi Takahashi, an artist who resides in Iiyama. Even when seeing them for the first time, there is something nostalgic and familiar about these lovely dolls, which are like snapshots of everyday life. No matter how many times you see them, they will touch your soul.
Phone

0269-67-0139
Buddhist Altar Street
There are over ten shops selling Buddhist altars on Ganki-dori, a 200-meterlong street, so it was given this name. (Butsudan means Buddhist altar.) Iiyama Buddhist altars are registered as a traditional folk craft. Why not take some time to window shop?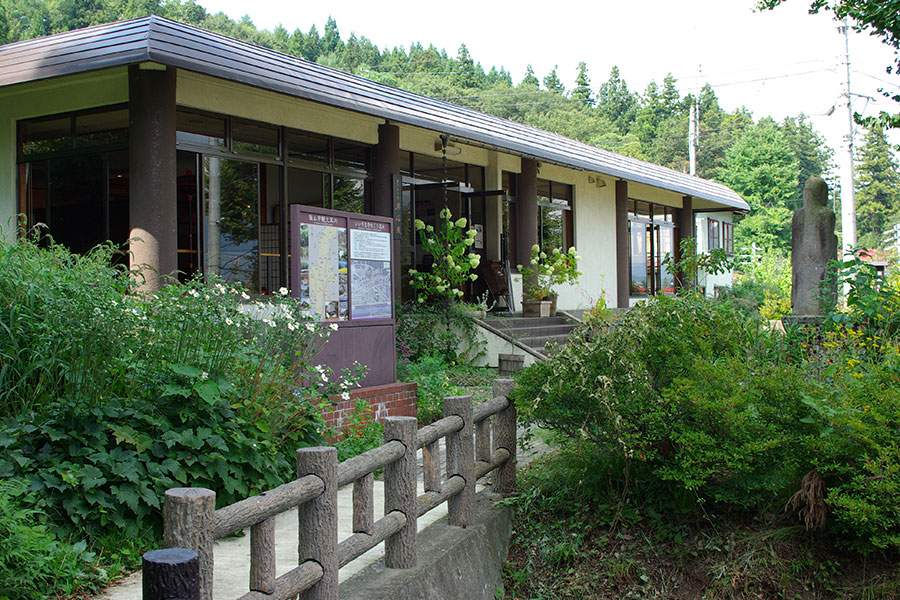 Okushinano-Experimental Display Hall
After seeing the temples and sights in town, take some time to relax here. What you must see is the pure gold restroom! As the name would suggest, it is sparkling gold. Don't miss this spot as a nice little memory of your stay.
Phone

0269-63-2950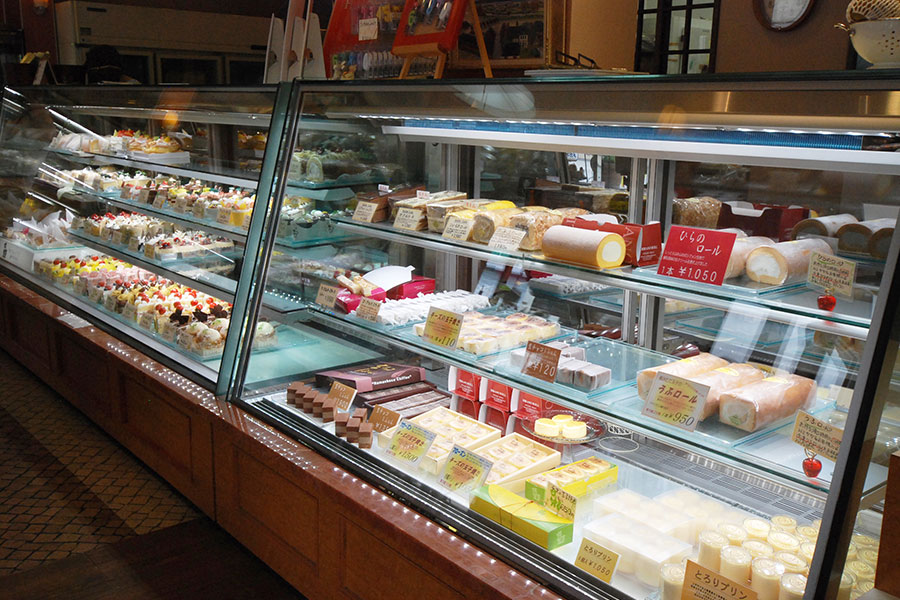 Sweets shops
Given that the region produces high quality rice and fruit, there are many sweets shops that offer delicacies made with rice flour and fresh fruit. You will find a veteran Japanese sweets shop that has been in business for over one hundred years, as well as European style patisseries with fans from within and without the city. You are sure to find a new favorite sweet.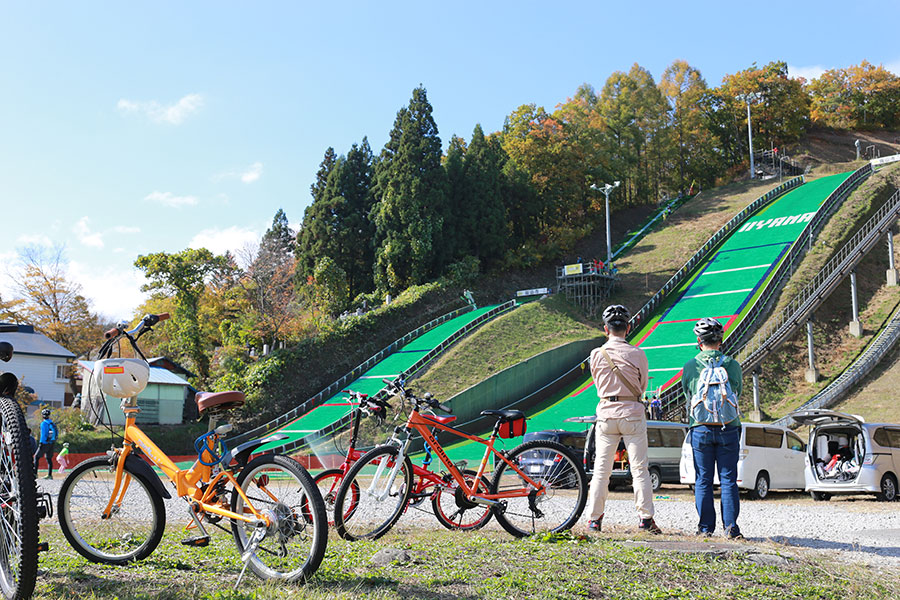 Iiyama Schanze
This summer ski jump location is where you will find children practicing their jumps. Some athletes even went on to the Olympics are from here.
Phone

0269-62-3111
Ext. 354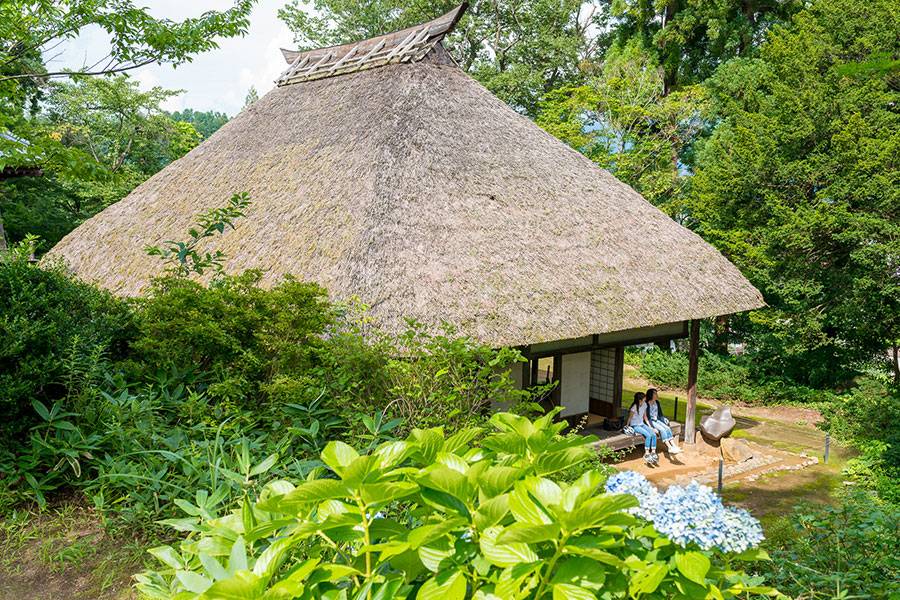 Shoju-an
Hakuin, a Zen master considered the person who restored Rinzai Buddhism, trained under Dokyo Etan, who spent his life at this hermitage. This site has been selected as among Nagano Prefecture's most historic sites, and among Japan's three finest hermitages.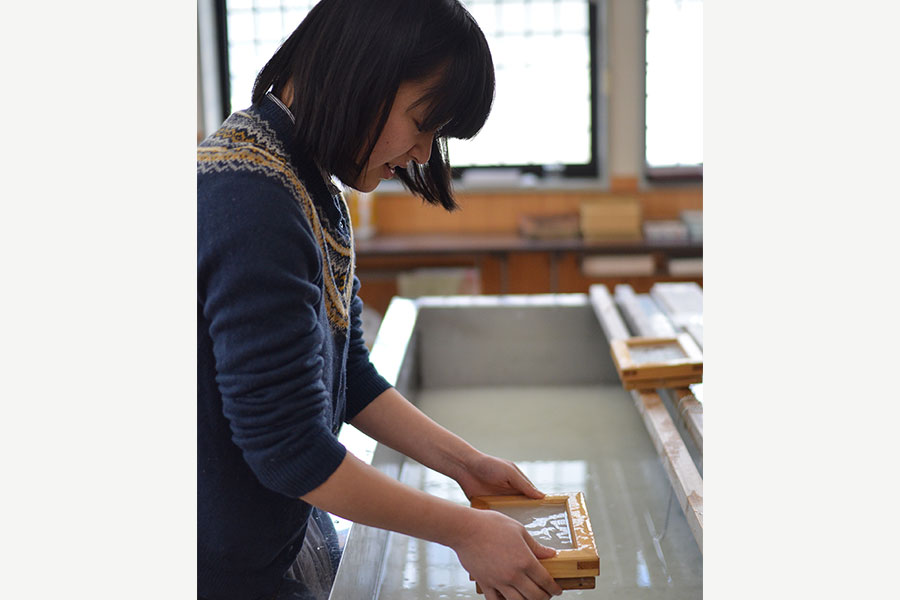 Iiyama Handicraft Paper Studio
Uchiyama paper has been created for 350 years in Iiyama, the snowy destination of northern Nagano. The fertile land and clear waters of this snowy area, and the delicate handwork of artisans, have produced this wonderful paper. Visitors can experience the centuries-old tradition.
Phone

0269-67-2794
Drop off Station
Rent-A Bicycle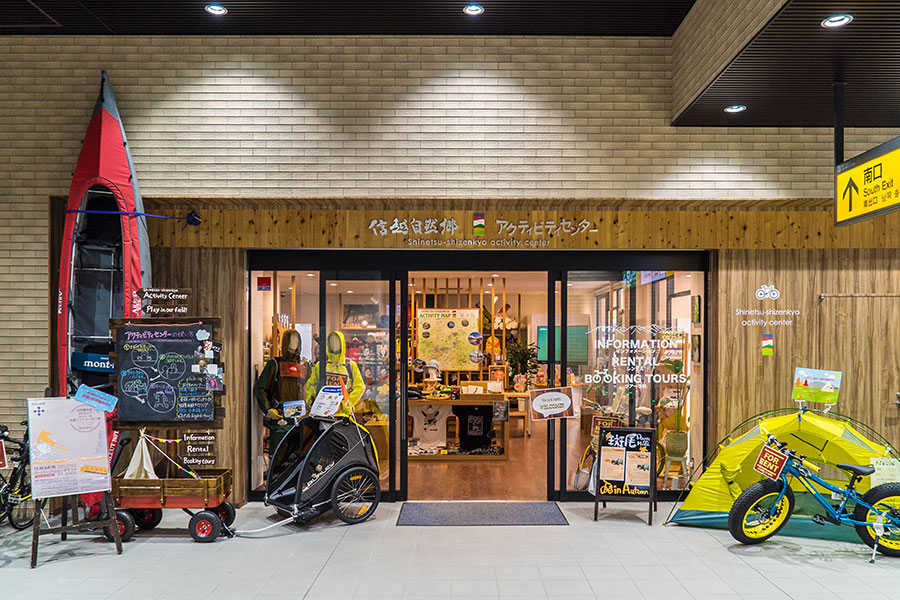 Shinetsu-Shizenkyo Activity Center
This is the starting point of your trip! You can go with your favorite bicycles. There are nine kinds of bicycle; city cruiser , electric, cross, road, mountain, fat and Tandem bikes.
The center provides the information, booking tours and activities to enjoy the four seasons of Shin'etsu Shizenkyo area. You can rent out gear to enjoy nature including bicycles, trekking shoes, rain wear, tents, sleeping bags, snowshoes and more.
Open

8:30-18:00
​​Recommended bicycles
GEAR
SIZE
PRICE
SPEC
City bike
26in
Half a day: 1,000yen
1day: 1,500yen
City bike is designed for frequent short, moderately paced rides through relatively flat urban areas. It comes with a basket attached.
Route Map