Chikuma River Nanohana Park Route
An easy, short ride to enjoy Iiyama's sights.
The Chikuma River Nanohana Park Route takes around 2.5 hours to complete. Not only the course is flat and easy throughout, road signs indicating the destination and distance remaining mean that you don't have to worry about getting lost. This route can be enjoyed safely by novice cyclists, such as families with children and couples. can be enjoyed safely by is perfect for novice cyclists.
The route starts at Iiyama station, where the Shin'etsu-Shizenkyo Activity Center is located. The route then travels along Buddhist Altar Street (Gangi Street), which runs north-south within the Iiyama city center. As one might guess from its name, this street is surrounded by Buddhist altar shops, as well as various sightseeing spots including temples and shrines, cafes and restaurants, and the Mayumi Takahashi Doll Museum. It's the perfect area to start off a slow and relaxed cycling tour.
| | |
| --- | --- |
| DISTANCE | 22.1km |
| RECOMMEND TO | Families, groups, couples, athletic cyclists |
| TIME REQUIRED | 2.5hours |
| START | Iiyama station |
| GOAL | Iiyama station |
After leaving the city center, the route travels up National Route 117, on the western bank of the Chikuma River. You will be able to see the cherry trees and fields of rape blossoms lining the road in the spring, together with views of snow-capped mountains. The road is perfectly straight and flat, with a clear line of sight, so you will feel liberated, and the pedals on your bike will seem to push themselves! The sidewalk along the National Route is designated "for pedestrians and cyclists" so you can enjoy cycling safely even when there is a lot of traffic. The roadside station Hana-no-eki Chikumagawa, located along the National Route, serves local sweets and meals loaded with local ingredients, and also has a variety of souvenirs and farmer's markets. You'll be sure to satisfy both your soul and your stomach here.
Travel further north from the roadside station Hana-no-eki Chikumagawa, and the Togari Onsen Ski Resort will come into view. Once you get close to Togari-Nozawaonsen Station, it's time to cross the Kashio Bridge. By the way, the bridges that cross the Chikuma River each have different colors and shapes, so have fun checking them out! Cross to the other side of the Chikuma River with the feeling of viewing the majestic Chikuma River from the sky. Ride through a nostalgic-looking village, and you will feel as if you've traveled back in time, and that time itself, funnily enough, is moving more slowly. You might be able to make some discoveries that give you insights into life in the snow country.
Once past this idillyic area, you will see Nanohana Park (Rape Blossoms Park) on a hill on the right-hand side of the route. This is an Iiyama landmark, where fields of rape blossoms cover the entire area with yellow from late April to early May. The carpet of rape blossoms, which heralds the arrival of spring in the snowy countryside, is a sight worth seeing. In the summer, the hill is swathed with sunflowers, and you will be able to enjoy the panorama of the Chikuma River and the surrounding mountains in all seasons. You can enjoy the flowers and the scenery, find the best location in the park to take pictures, bring your own lunch and enjoy a picnic, or even enjoy a nap! There are so many ways to enjoy this spot.
Near the end of the route, you'll be traveling on the causeway along the eastern bank of the Chikuma River. This is what I'd actually like to introduce as the biggest highlight, or maybe "ridelight" of this course. Not that there is any single special thing to look for, but the fact that there is nothing particularly special makes this peaceful time and the moments spent glimpsing the rich and beautiful wildlife so special. Indulge in the luxury of this experience at your leisure on this wonderful route.
Shops and points of interest along route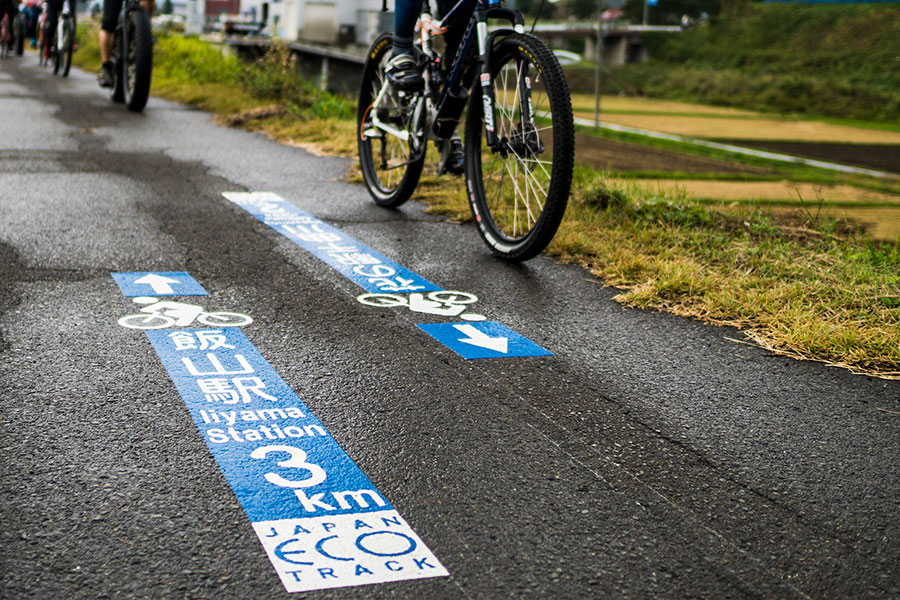 Information display (pictogram)
Information displays for bicycles "pictograms" are transcribed on the road.These pictograms show you the distance and the direction to the next point.You will have a safe and comfortable cycling without a map.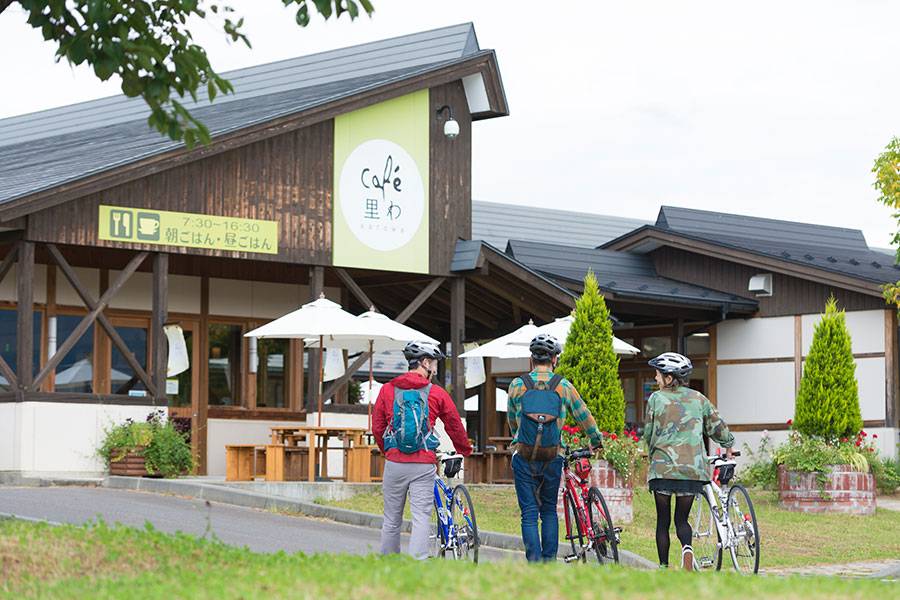 Roadside station Hana no Eki Chikumagawa
It's located on the 117 national road . The scenary from there changes completely 4 seasons so there is always a supprise when you stop by. "Snow carrot ice cream" is a must-have at café.
Phone

0269-62-1887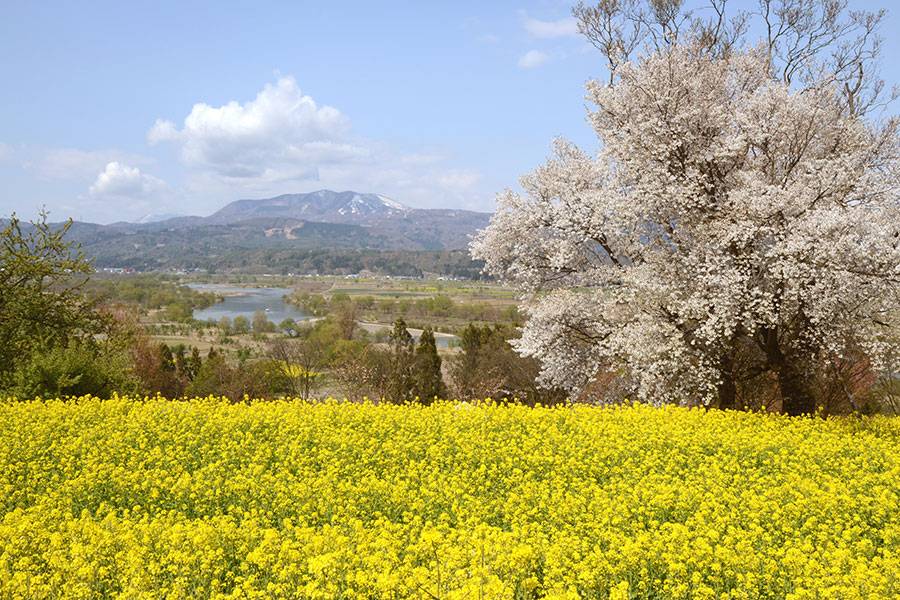 Nanohana Park
Captured in the classic song Oborozukiyo, with lyrics like "The sun fades away into fields of nanohana blossoms..." the scenery of traditional Japan is on display at Iiyama's Nanohana Park. Sunflowers are in bloom in summer.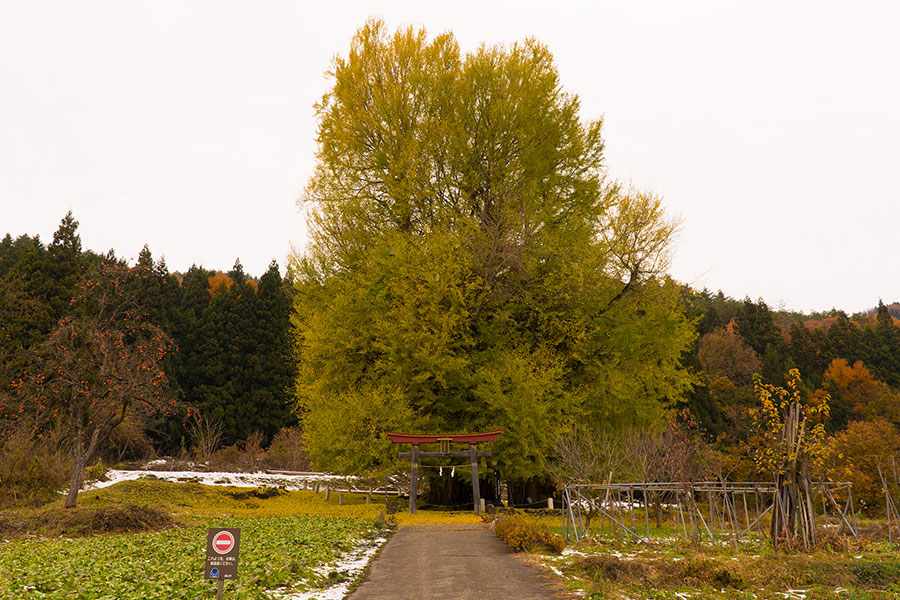 Godo no Oicho
Standing 36 meters tall, this huge gingko tree is thought to be more than 500 years old. It is particularly lovely in early spring, when the first greenery emerges, and at the peak of autumn leaf season.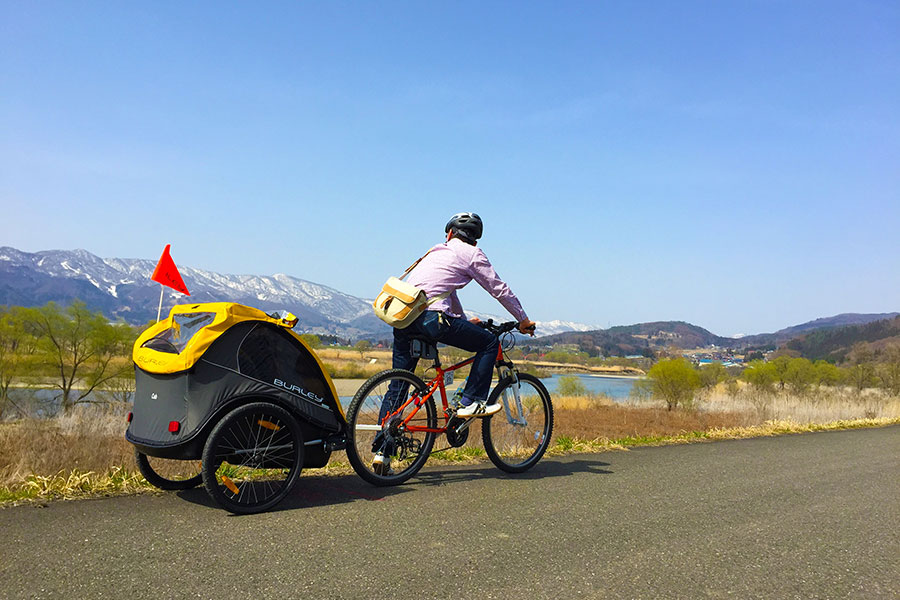 Chikuma river view
Here you can see the gentle mountain ranges, the Sekida mountain ranges of the Niigata-Nagano prefecture border. The scenery is amazing riding along Chikuma river which is the longest river in Japan.
Abe Papermaking
Capitalizing on Iiyama's heavy snow, local craftsmen use a unique technique called yukizarashi (snow bleaching) to create durable, long-lasting Japanese paper. There are stationeries, lights etc. for sale. Also, you can experience hand-made Japanese paper, so make your own original work. (reservation required)
Phone

0269-65-2594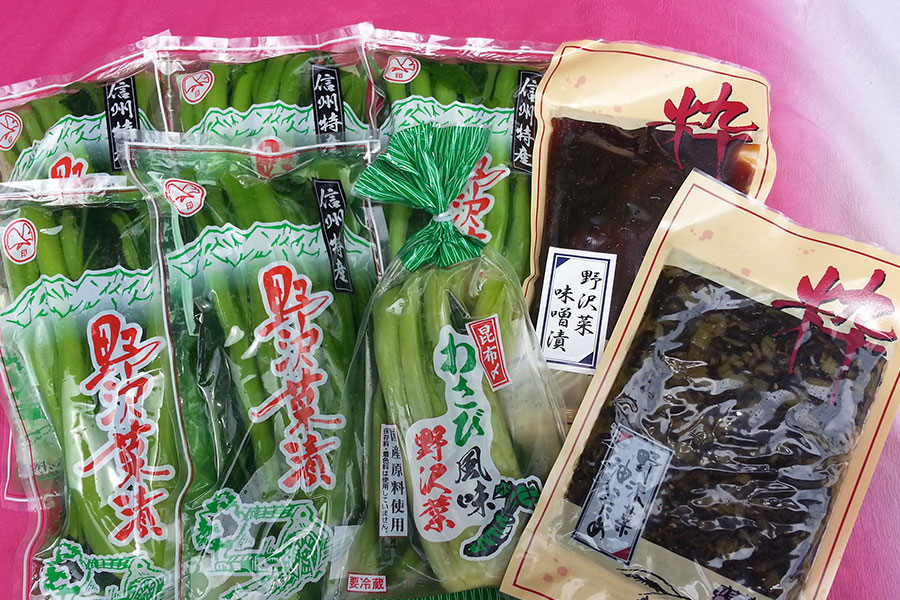 Mizuhosyokuhin
This place produces Nozawana pickles and you can also purchase them. Nozawana is a pickled japanese leaf vegetable and has been cultivated around this area with rich water, soild and perfect environment.
Phone

0269-65-3854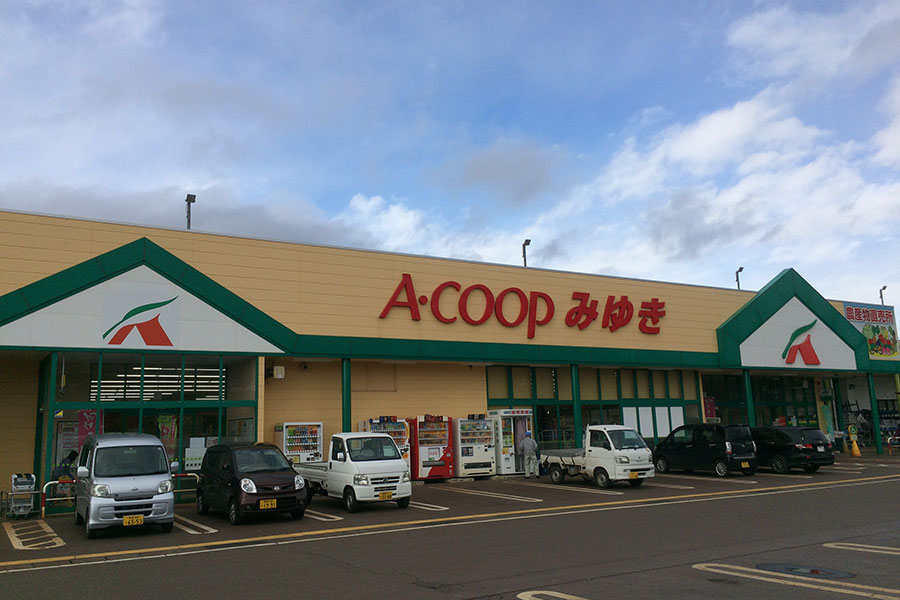 Acoop Miyuki store
A supermarket with local agricultural and livestock products. In addition to the direct sales corner of locally produced vegetables and mushrooms, you can get first-class brand Shinsyu pork "Miyuki Pork".
Phone

0269-81-2222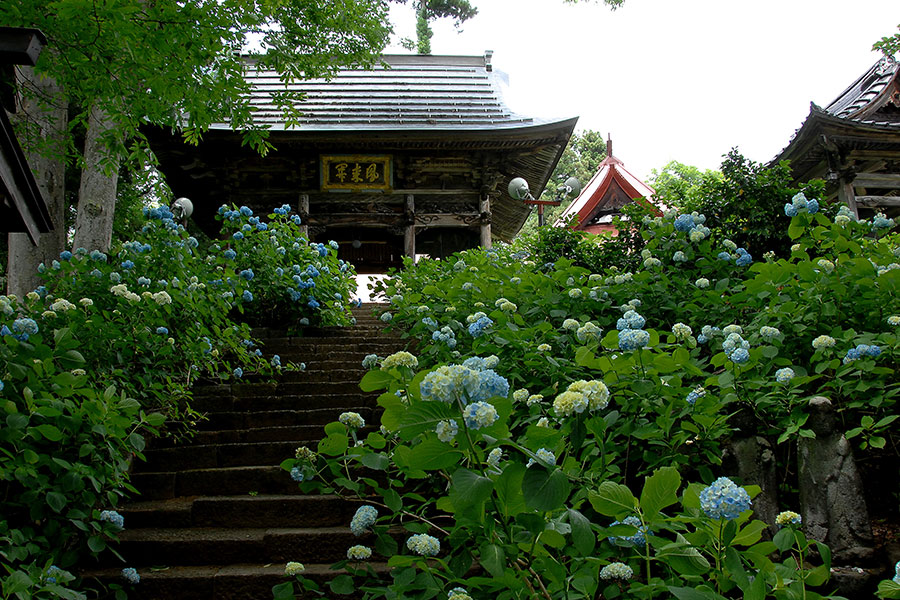 Kogenin (Hydrangea Temple)
Located next to Togari Onsen Ski Resort, this Soto Buddhist shrine has been standing for six centuries. The temple is also called "Hydrangea Temple,"which was named after 10,000 hydrangea blossoms in July.
​​Recommended bicycles
GEAR
SIZE
PRICE
SPEC
Cross bike
S.M.L
(height 150cm-185cm)
Half a day: 1,500yen
1day: 2,000yen
Cross bike is lightweight, designed to be ridden on off-road, unpaved and paved roads at relatively high speed. It's great for long rides.We have the mont-bell's & bianch's.
City bike
26in
Half a day: 1,000yen
1day: 1,500yen
City bike is designed for frequent short, moderately paced rides through relatively flat urban areas. It comes with a basket attached.
Route Map