Iiyama to Sakae Village Route
Visit hot springs, tourist spots, and a famous temple on your way to the northernmost village in Nagano Prefecture.
The Iiyama to Sakae Village Route is a 32-km route starting from Iiyama station and going to Sakae Village, located in the northernmost part of Nagano Prefecture and on the border of Niigata Prefecture, and is the perfect route for those who want to enjoy a full day of cycling. It is particularly enjoyable for groups and families with children in middle school or above.
The highlight of this route is the Old National Route 117 starting from Togari-Nozawaonsen Station. The road is quite narrow and far from straight, so it is not really the shortest nor quickest route, but there are no traffic lights and very little traffic, so it's a route that's ideal for cycling. Amazing experiences await, such as riding alongside both the idyllic JR Iiyama Line and the Chikuma River, the greatest river in Japan.
| | |
| --- | --- |
| DISTANCE | 32.6km |
| RECOMMEND TO | Families, groups, couples |
| TIME REQUIRED | 5hours |
| START | Iiyama station |
| GOAL | Morimiyanohara station |
Going along the Old National Route 117 brings you to the Iiyama Yutaki Onsen, on the banks of the Chikuma River. Do make a stop here, as there are open-air hot springs with a view of the Chikuma River, as well as restaurants with menus that boast locally grown ingredients. You can also drop your rental bikes off here, so you can enjoy the hot springs and a nice meal, then take a short walk to Kamisakai Station and return to Iiyama Station by train.
Go further, and cross the Degawa Bridge, completed in 1950. If you look carefully, you'll notice that the railing, you'll see a tablet bearing the legend of "National Route 10", which was recognized in the Taisho Era, indicating that this used to be the National Route linking Tokyo to Akita. The Nishiotaki Dam, up ahead, allows you to ride your bike on top, which is rare. It's on the top of a slope that is just off the route, but it's worth making a detour for!
Once past the dam, the route moves closer to the Iiyama Line, so that you'll be riding just alongside the tracks at Shinano-Shiratori Station. The diesel trains characteristic of the snow country do not have any overhead lines, and fit seamlessly into the landscape. Don't forget to check the train schedules in advance, as there are only a few trains every day. If possible, make a detour to stop by the famous Buddhist temple of Jōkei-in. The great structures of the Mountain Gate (Sanmon) and the Nio-mon Gate are particularly breathtaking, and create a dramatic contrast with the idyllic pastoral landscape surrounding them. The rice paddies spreading along the Chikuma River, the steeply angled corrugated metal roofs, and the villages with ponds called tane hint at what life must be like in area with heavy snowfalls.
If you've got this far, it's just a little further to the goal of Mori-Miyanohara Station. You can drop your rented bikes off at the tourist information center within the Earthquake Recovery Memorial Hall 'Kizuna', near the station, so you can choose how to enjoy your trip!
Shops and points of interest along route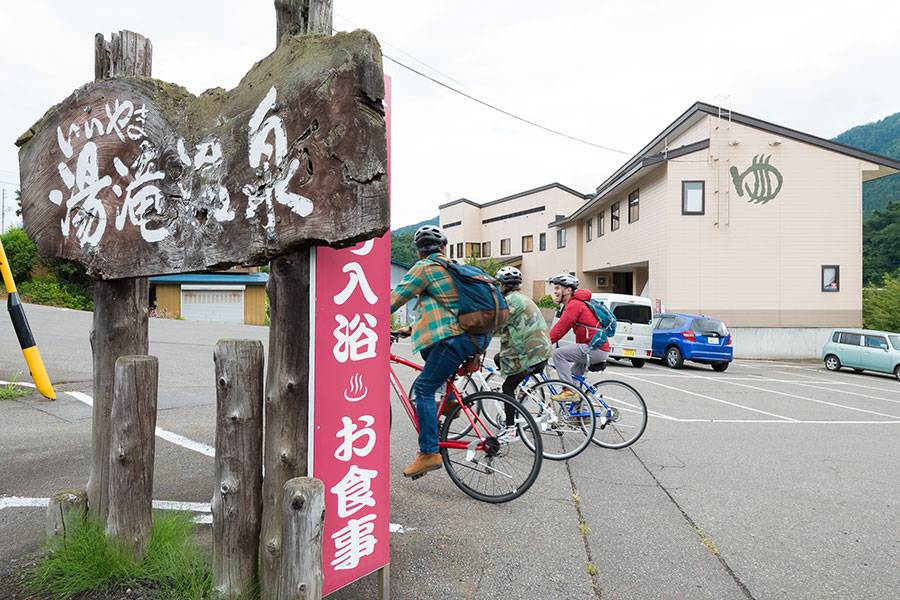 Iiyama Yutaki Onsen
This bathing facility is great for day trips, as it is right near Kamisakai Station on the JR Iiyama Line. The spacious outdoor baths give out onto views of the Chikuma River. The ample cafeteria lets you unwind and snack on your favorites.
Phone

0269-65-3454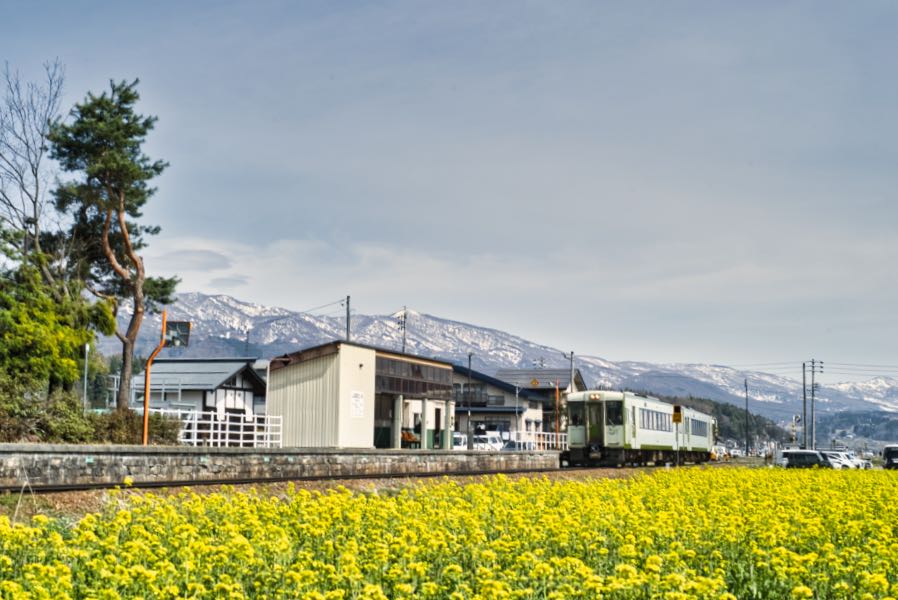 Shinanotaira Station
The old train remains as Shinanotaira's station building which looks like ruins. Around the station bloom with yellow canola flowers from the end of April to the beginning of May every year, and you can see the local train " Iiyama line" running in the yellow flower field.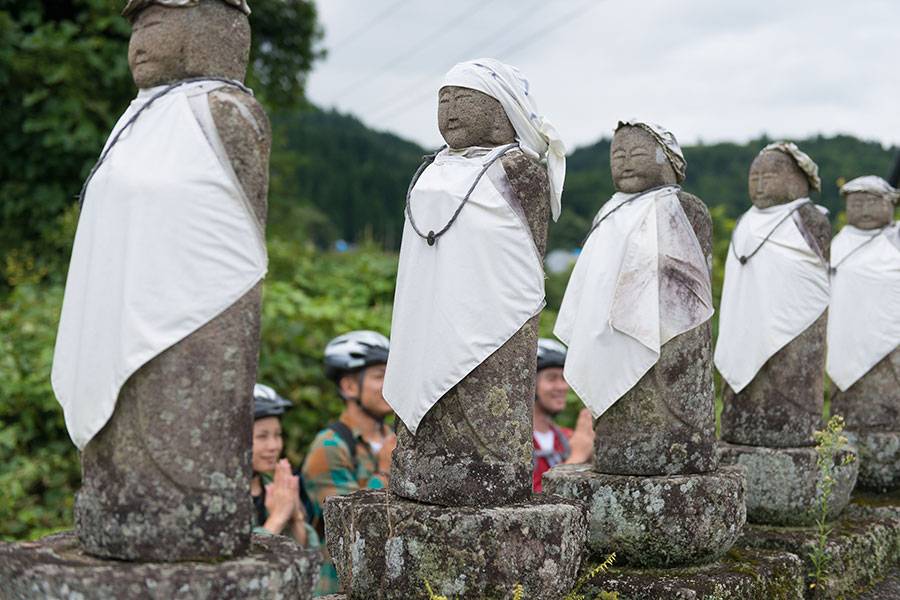 Roku-jizo
The Northern Nagano earthquake occurred in the aftershocks of the Great East Japan Earthquake; these Jizo statues are located in Nishi-otaki, adjacent to Sakae, where the damage was greatest. Of the seven statues, six do not have fixed pedestals, and shifted from facing south to east, pointing towards Sakae. While Nishi-otaki also sustained damage, it was fortunately not severe, so locals say that the Jizo statues protected them.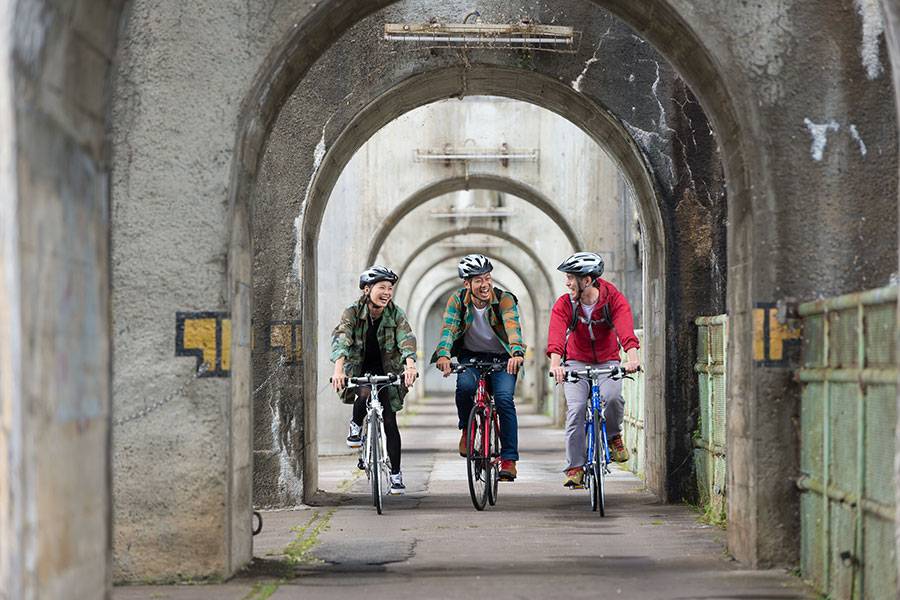 Nishi-otaki Dam
This dam is located just about in the middle of the Shinanogawa River. In spring, the riverside is full of Yoshino cherries in bloom. It is a well-kept secret for cherry viewing in Iiyama. You can cross the bridge over the dam by bicycle to see the amazing impact of the waters.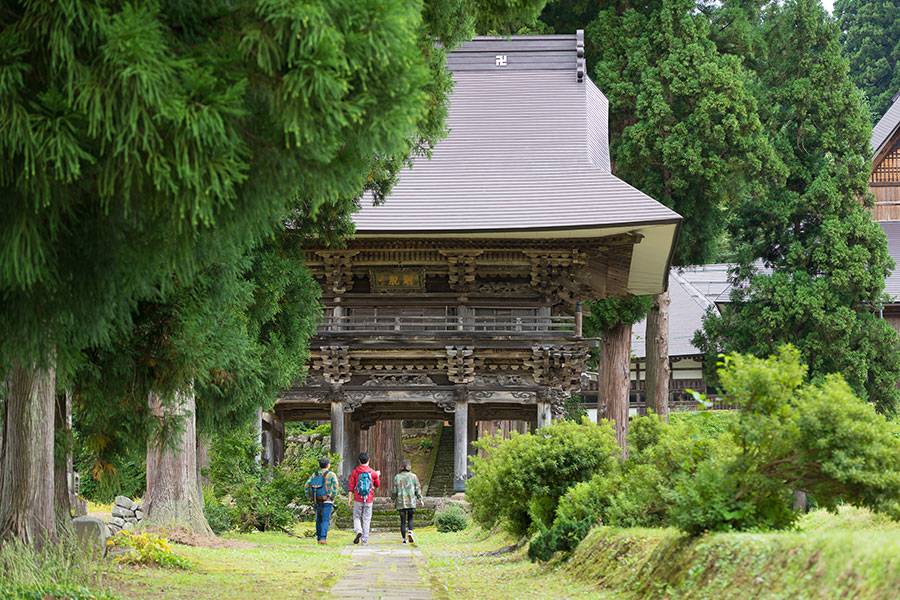 Jokei-in Temple
One of the Shin'etsu region's most famous temples, this site is said to have been opened in 1398. Since being moved to its current location, it has withstood the winds and snows for some three hundred years. The solemn and intricately-carved gates leading to the temple are flanked by stately cedar trees.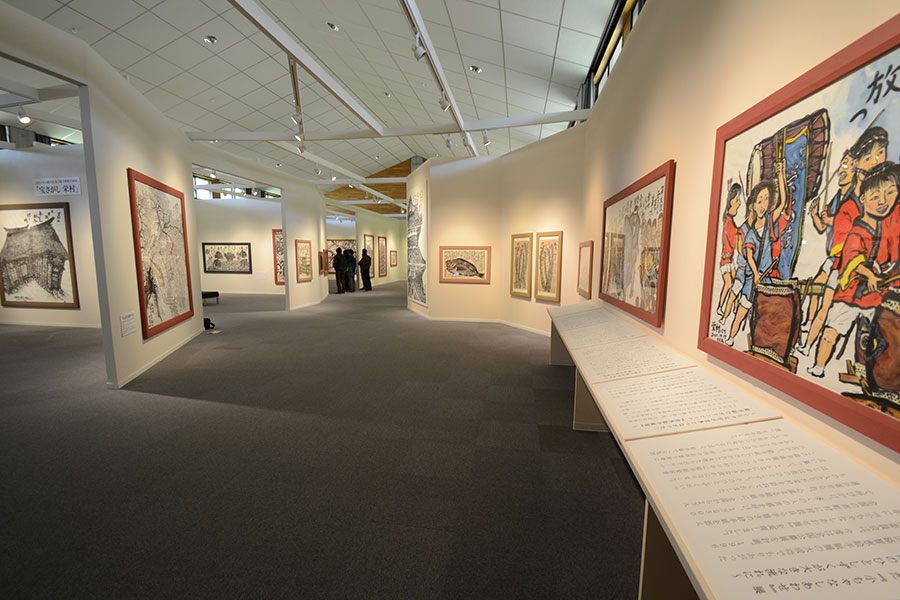 Sakae International Illustrated Letter Time Capsule Museum / Yamaji Tomoe Illustrated Letter Museum
Tomoe Yamaji assiduously produced these illustrated letters from a young age. They have a robust impact and gentle message that resonates with the viewer. Find 150 on display. The time capsule museum lets you try drawing your own illustrated letter.
Reservations are required by the day before.
Closed on Saturday, Sunday, public holidays and for Winter (Dec-Apr).
Phone

0269-87-1920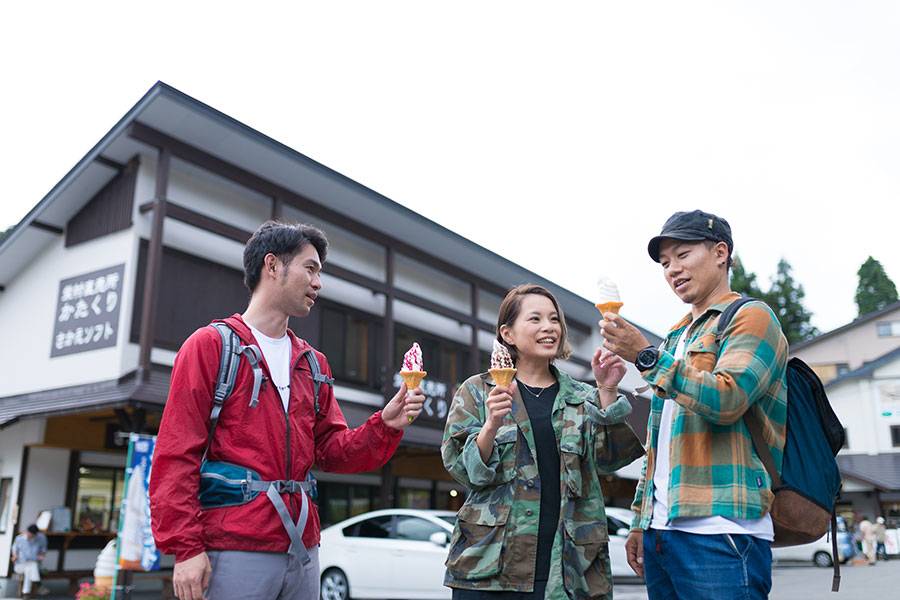 Roadside Station Shin'etsu Sakae
Japan's longest river, the Chikuma River, changes names to the Shinano River when it enters Niigata area. This roadside station is located in the vicinity of a bridge spanning the two prefectures. A traditional Northern Shinshu-style building is where locally-made produce and other items are sold. You can also have a meal here.
*Shop closed: Every Tuesday
Phone

0269-87-3180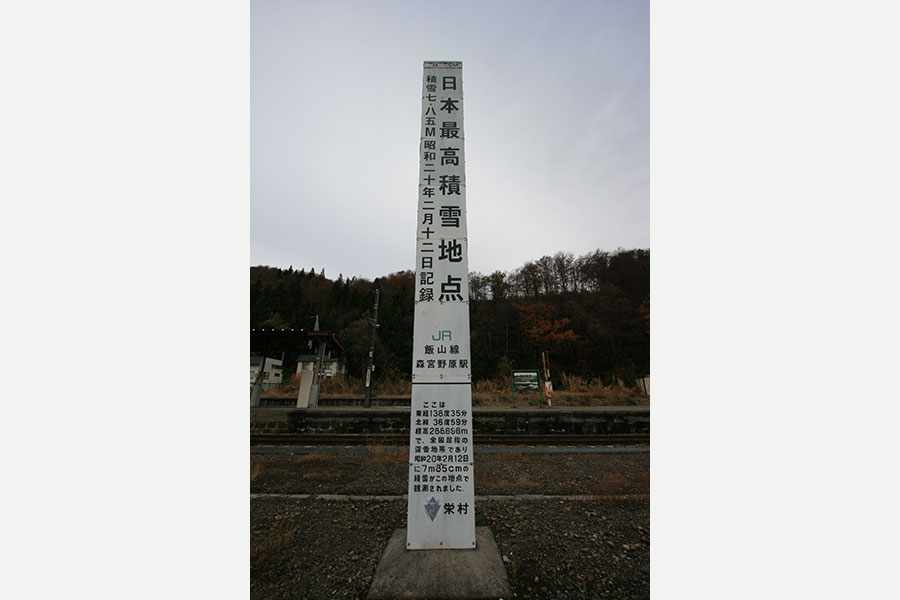 Marker indicating Japan's highest snowfall
On February 12, 1945, Morimiyanohara Station recorded snowfall of 7.85 meters. This point was measured by Japan Rail and the national rail routes as having been the highest snowfall in all of Japan. There is a signpost at Morimiyanohara Station indicating that record.
Drop off Station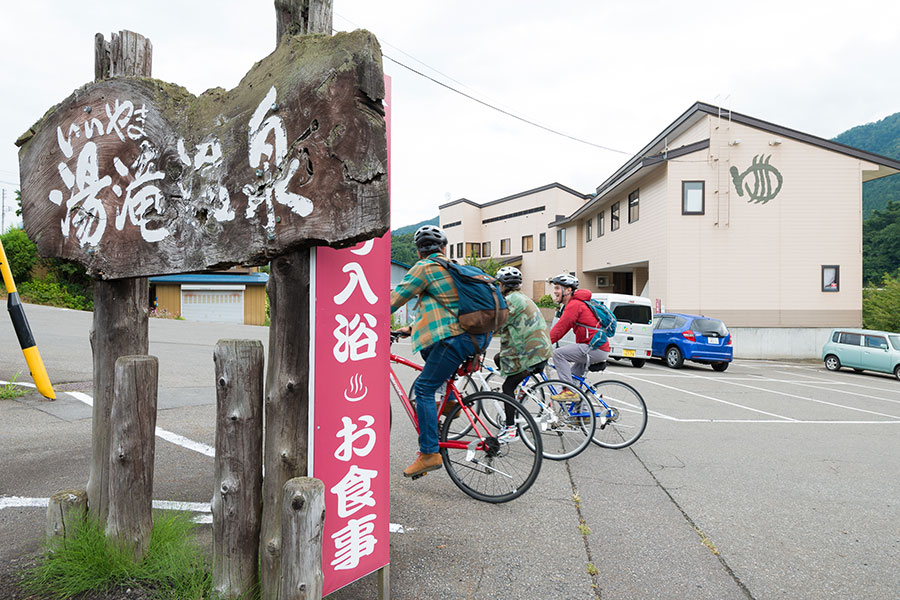 Iiyama Yutaki Onsen
The route is mostly flat and recommended for cycling beginners.
Spring spa beside Chikuma river is wonderful! You can get back from Kamizakae station to Iiyama station by local train
One of the four hot springs that springs up in Iiyama city. From the open-air spa, you can enjoy the beautiful natural beauty of the seasons with the view of Chikuma river and the mountains.
Phone

0269-65-3454
Rent-A Bicycle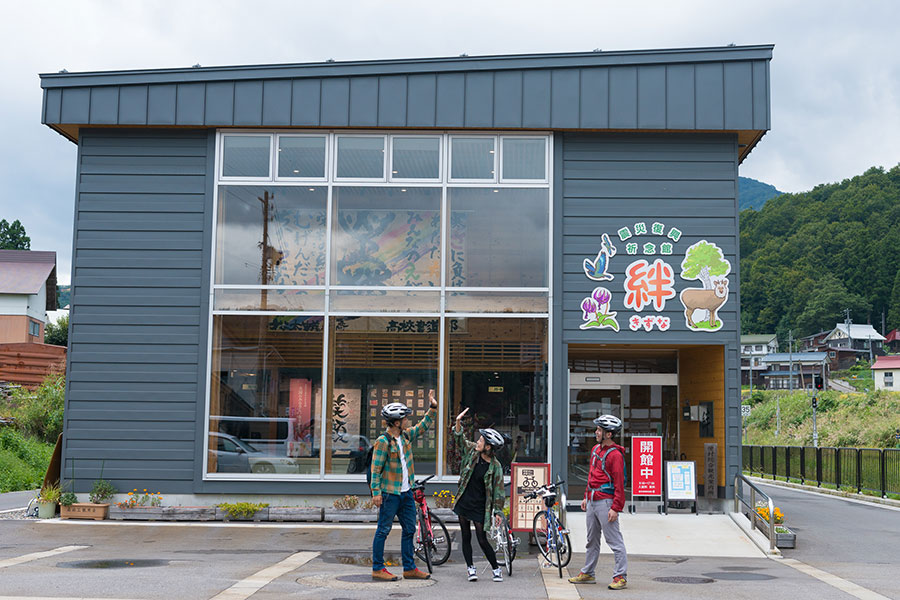 Sakae Earthququake Recovery Memorial Hall Kizuna
It is a long cycling going along with the relaxing flowing Chikuma river
Returning on a local line, feeling relaxed!
The day after the Great East Japan Earthquake, an another one with magnitude 6.7 and seismic intensity 6 strong hit Sakae village on March 12, 2011. In the memorial hall, records of village restoration and reconstruction are exhibited. Also, it is a complex facility with tourist information center and a child support room,
Phone

0269-87-2200
​​Recommended bicycles
GEAR
SIZE
PRICE
SPEC
Cross bike
S.M.L
(height 150cm-185cm)
Half a day: 1,000yen
1day: 1,500yen
Cross bike is lightweight, designed to be ridden on off-road, unpaved and paved roads at relatively high speed. It's great for long rides.We have the mont-bell's & bianch's.
Road Bicycle
M.L
(height 156-167cm,169-178cm)
Half a day: 3,000yen
1day: 4,000yen
Road bicycle is of a lightweight construction and for traveling at speed on paved roads. It's great for long rides and clibming hills.
Elecric cross bike
S.M.L
(height 145-165cm/155-175cm/160-180cm)
Half a day: 3,000yen
1day: 4,000yen
Electric cross bike is great for long rides and climbing steep hills.
The battery will last for maximum of 115 km.
Route Map