The Shinano Lake Nojiri Route
Enjoy the richness of the mountains and the spacious resorts.
From Iiyama City, past Wakui Village in Toyota District of Nakano City and Arasebara Village in Shinano Town, through Lake Nojiri and to the Kurohime Plateau. With hills to climb, beautiful rural scenery, and a spacious lake, this route has all of the best scenery from Shinetsu. At first glance, it may look like a difficult route, but by using the E-BIKE (a sports bike with electronic assistance), you will be able to feel the changing scenery using all of your senses without using too much of your energy on pedaling. You can also enjoy food and sweets on your way from Lake Nojiri to the Kurohime Plateau. We highly recommend this route as a group ride or girls' trip.
| | |
| --- | --- |
| DISTANCE | 32.9 km |
| RECOMMEND TO | groups, couples, athletic cyclists |
| TIME REQUIRED | 5hours |
| START | Iiyama station |
| GOAL | Kurohime station |
You can start from JR Iiyama Station going towards Toyota Iino Interchange, and then go around the Madarao foothills.
You will start by climbing uphill towards Wakui Village in the Toyota District of Nakano City. Wakui Village, located between the mountains, has a sharp variation in temperature between the day and night. It is a secret birthplace of the Kirishita soba noodles. The soba noodles in this village are called the Wakui soba noodles, and you can enjoy them in Teuchi Soba Kitazawa, known for its high quality, and Wakui Senta, known for its generous quantity.
Once you leave Wakui Village, you will start to go down hill towards Arasebara Village in Shinano Town. A little while later, the view will open to show Mt Kurohime and Mt Izuna, and you will be able to enjoy the beautiful rural scenery. Taking care to not disturb the farm work, we recommend you take one road further down the main road. You will encounter scenery that looks like it was made for Shinetsu cycling, and you will want to stop cycling to take a picture.
Once you cycle beyond the rural scenery, you will find yourself in a forest. Beyond the forest, you will find the view open up to show Lake Nojiri.
Cycling on the road around the spacious lakeside, your heart will dance at the slightly different scenery which looks like a resort. Lake Nojiri is known as the excavation site of the fossil of the Naumann elephants, and you will find monuments which depict ancient scenery as you go along the lakeside. Here, you can enjoy a scenery of that of a resort as well as its history.
You can also enjoy lunch overlooking Lake Nojiri. You can enjoy your meal on the restaurant terrace, or enjoy a takeaway lunch in the park. You will be sure to spend a long time here where time gently passes by.
The fun does not end here on this route. You will be riding the E-BIKE. Use all of the functions on the bike and enjoy the taste of the Kurohime Plateau. Next stop is tasting the soft ice cream from the plateau. Here in Shinano Town, there are two types of soft ice cream that we want you to definitely try. The first is the Kurohime Milk Soft Ice Cream, which uses fresh milk from the Kurohime Plateau, and you can have this at Roadside Station Shinano. The second is the Blueberry Soft Ice Cream, topped with plenty of homegrown blueberries, you can have this at the blueberry garden. You can choose which one to have as a treat for having cycled this long, or you can have both!
Now that you have your bellies full, let us reach our goal that is Kurohime Station. You can leave your rental bicycle at the nearby Shinano Town Visitor Center. If you use the Shinano Railway Kita-Shinano Line you can easily travel onward to Nagano. By combining the E-BIKE and the local train lines, you can further enjoy cycling in Shinetsu's nature.
Shops and points of interest along route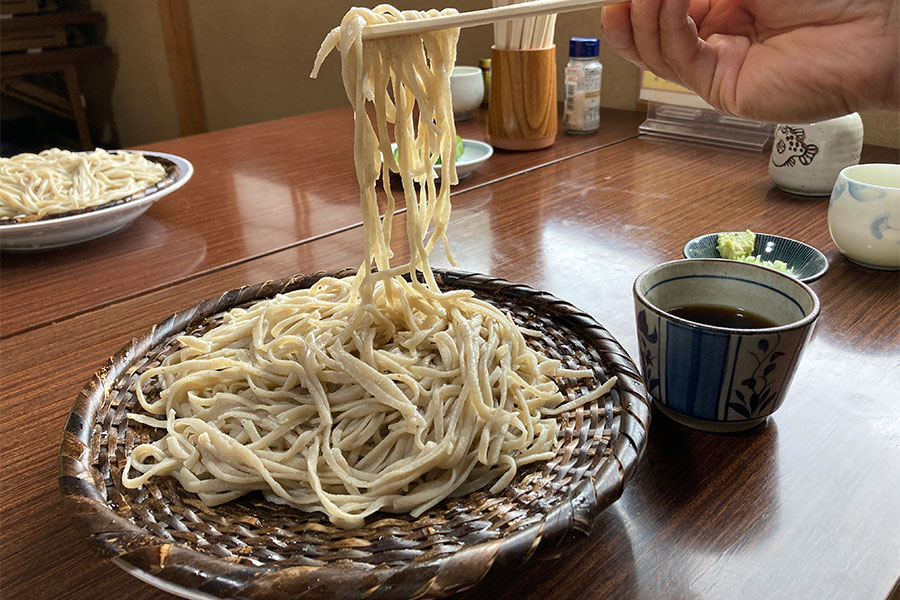 Wakui Soba Noodles
The Madarao foothills area is filled deep with fog due to the sharp temperature difference. Soba grown in this region is called Kirishita Soba (soba from under the fog). In the Wakui district, there are two characteristic soba noodle restaurants. One is the Teuchi Soba Kitazawa which uses home-grown and millstone grounded soba, and the other is the Wakui Senta which boasts generous portions. Many fans visit these places.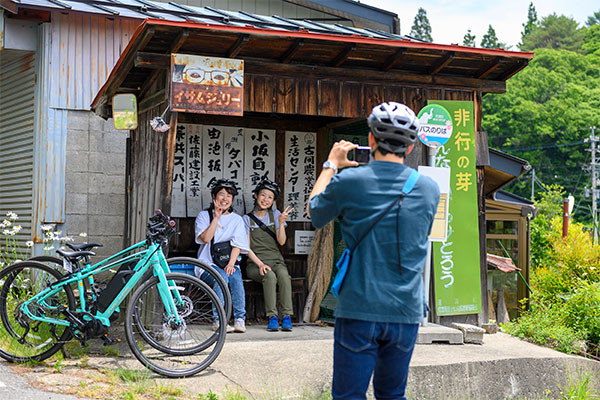 Retro Bus Station
A nostalgic bus station in Arasebara District. This scene which makes you want to stop your bicycle and take a picture looks like something from a lost time. Adverts that adorn the waiting room are filled with old-fashioned stores.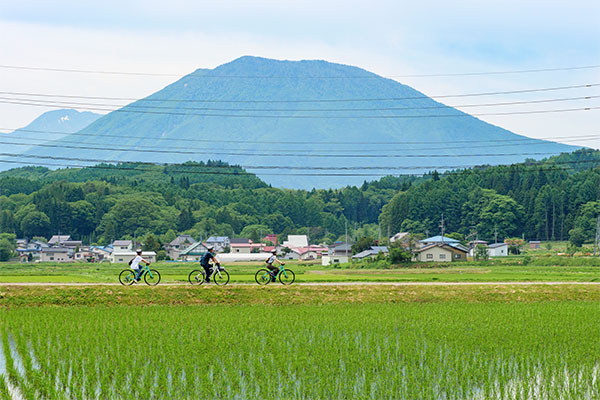 Arasebara Rural Scenery
This region is known for growing rice which uses the underground water from Mt Madarao. You can enjoy cycling in a location that overlooks Mt Kurohime, Mt izuna, and Mt Myoko. Once you are one road further than the main road, you can also enjoy a route that takes you inside the paddy fields. As farm vehicles go along this area, please cycle safely.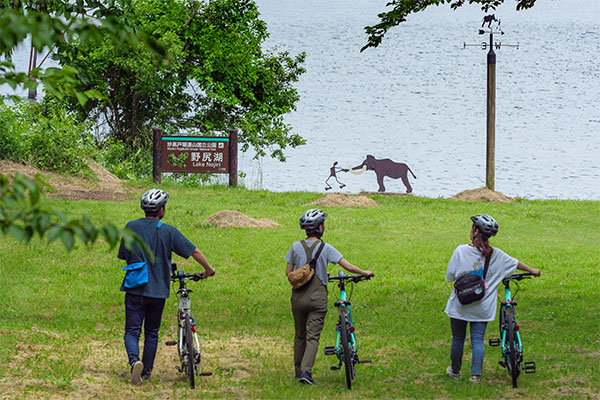 The greenery, water, and air of Lake Nojiri
An open space run by the town in Lake Nojiri. You can enjoy lunch from a nearby takeaway cafe, or just relax and enjoy the lake view. You can enter the lake, so it is also ideal to cool down after cycling in the summer.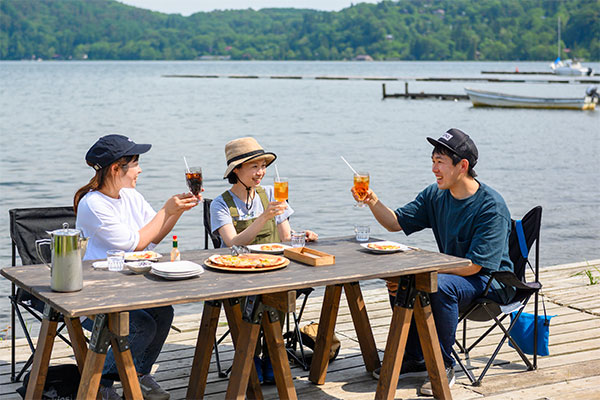 Kohaku Terrace
There are many restaurants and cafes dotted around Lake Nojiri. The Kohaku Terrace is one of them and you can enjoy a relaxing lunch on the field in front of the restaurant. We recommend the all-you-can-eat pizza lunch to cyclists. This is popular among regular visitors. It is registered as a cycling station with Shinano Nature.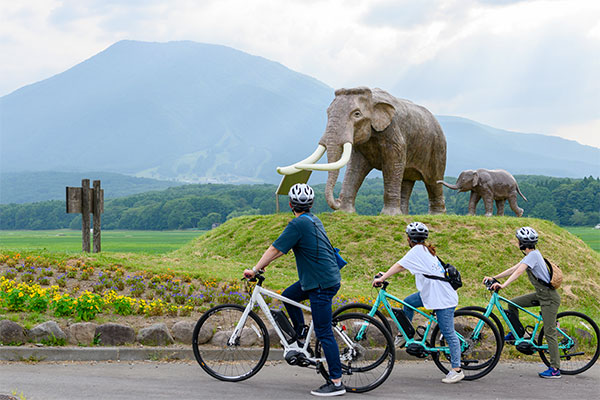 Naumann elephants
Lake Nojiri is also known as the excavation site of the fossil of the Naumann elephants. You can also meet monuments of different shapes along the lakeside. We recommend the monument of a family of Naumann elephants located at the intersection of Lake Nojiri as an ideal photo spot. The lovely round eyes are enticing and you will want to take a picture of them.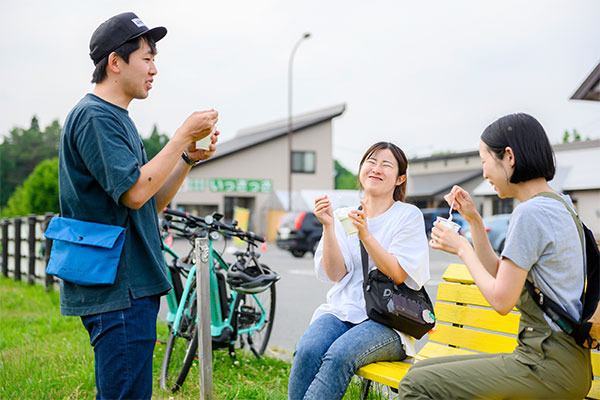 Roadside Station Shinano
It has a farm stand as its annex. The food stand is for Shinano Town, known for its corn. The richly flavoured soba noodles are handmade by artisans every morning, and menus that use local fresh produce are popular. We recommend the milk soft ice cream that uses fresh milk from the Kurohime Plateau. Depending on the season, you can enjoy different flavors of soft ice cream.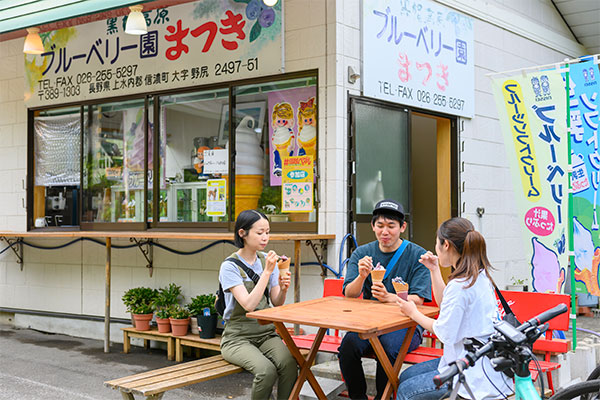 Blueberry garden Matsuki
On the roadside located in the road leading from the Road Station Shinano, Shinano Town Interchange to Kurohime Plateau, there is a renowned blueberry soft ice cream store. It has plenty of blueberries picked from its own garden as a topping. The homemade sauce is also very tasty. It also has a handy spacious resting space. You should definitely try it if you come to Shinano Town.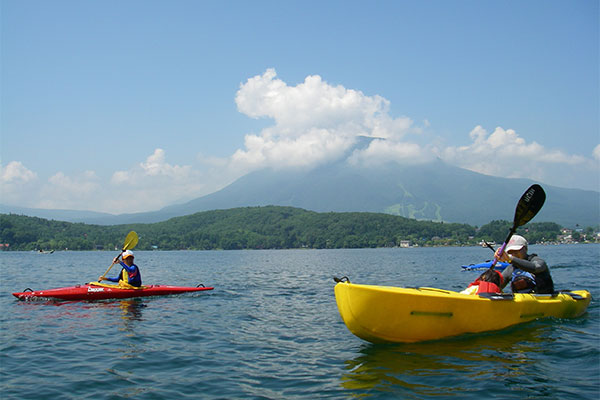 Activities at Lake Nojiri
Not only is the location beautiful, but you can also enjoy many different activities at Lake Nojiri. From paddling sports such as canoeing, kayaking, and SUP, you can enjoy other active sports activities such as windsurfing and wakeboarding. They all have schools that teach you, so why not try it out?
Drop off Station
Rent-A Bicycle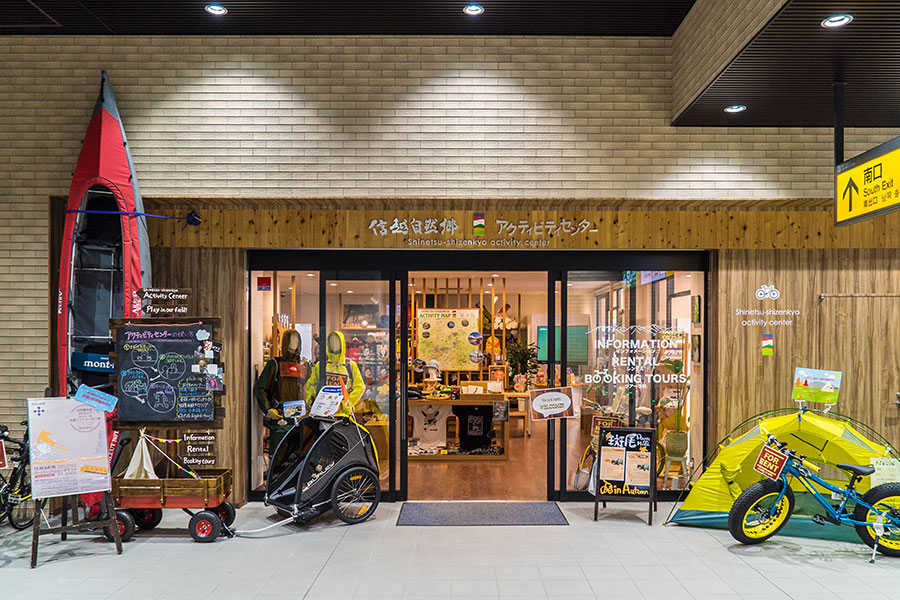 Shinetsu-Shizenkyo Activity Center
This is the starting point of your trip! You can go with your favorite bicycles. There are nine kinds of bicycle; city cruiser , electric, cross, road, mountain, fat and Tandem bikes.
The center provides the information, booking tours and activities to enjoy the four seasons of Shin'etsu Shizenkyo area. You can rent out gear to enjoy nature including bicycles, trekking shoes, rain wear, tents, sleeping bags, snowshoes and more.
Open

8:30-18:00
Rent-A Bicycle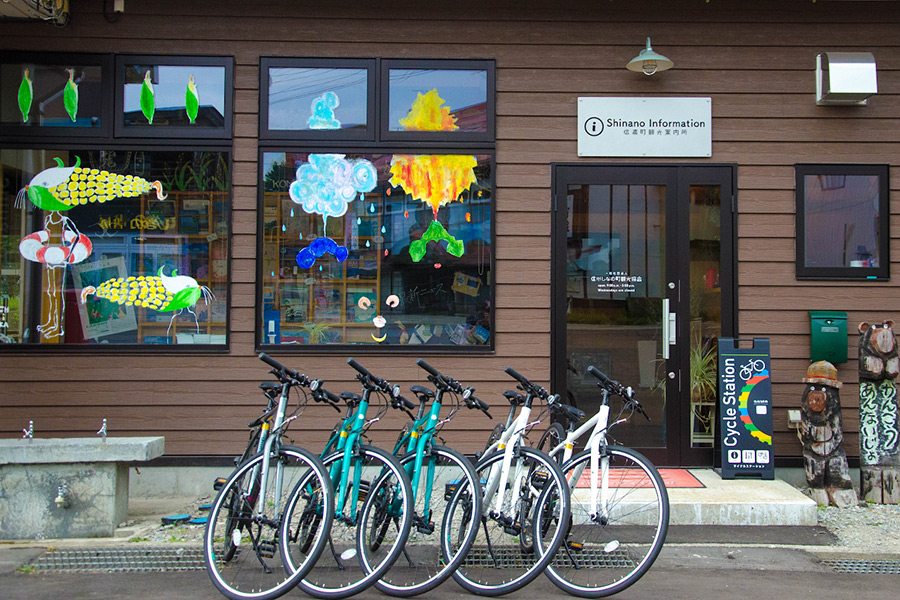 Shinano town Tourist Information Center
Shinano town is widely known as a leader in forest therapy. Explore the healing forest and get away from today's stress-filled society.
It is located at the foot of beautiful Mt. Kurohime and has been a hub of tourism. Experience water activities at Lake Nojiri where there are many accommodations and great restaurants.
Open

9:00-17:00

Closed

Wednesday

Phone

026-255-3226
​​Recommended bicycles
GEAR
SIZE
PRICE
SPEC
Cross bike
S.M.L
(height 150cm-185cm)
Half a day: 1,000yen
1day: 1,500yen
Cross bike is lightweight, designed to be ridden on off-road, unpaved and paved roads at relatively high speed. It's great for long rides.We have the mont-bell's & bianch's.
Road Bicycle
M.L
(height 156-167cm,169-178cm)
Half a day: 3,000yen 1day: 4,000yen
Road bicycle is of a lightweight construction and for traveling at speed on paved roads. It's great for long rides and clibming hills.
Elecric cross bike
S.M.L
(height 145-165cm/155-175cm/160-180cm)
Half a day: 3,000yen 1day: 4,000yen
Electric cross bike is great for long rides and climbing steep hills.
The battery will last for maximum of 115 km.
Gravel road with electric assist
One Size
(height 165-178cm)
Half a day: 4,000yen 1day: 5,000yen
It is a gravel road bike with electric assist. Equipped with 650B x 45C size tires, stable driving is possible on courses such as forest roads and farm roads and off-road. You can ride uphill easily, and the running performance that combines the lightness of a road bike is outstanding. Long rides are possible with a long battery. Appropriate height: M size (165cm-178cm)
Route Map